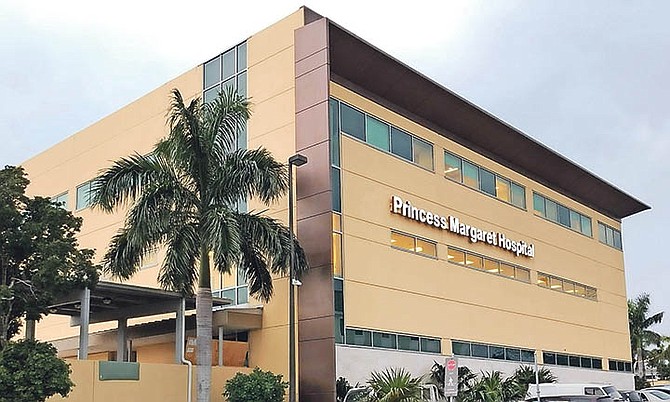 By KHRISNA RUSSELL
Deputy Chief Reporter
krussell@tribunemedia.net
NEARLY 600 senior and junior doctors, fuelled by frustration, withdrew services yesterday warning that only "life and death" cases will be accommodated until there is resolution over outstanding physician reimbursements and improvements to base salaries.
Anyone reporting to any of the country's public medical facilities will experience "difficulties" receiving care, the doctors insisted, adding that no elective procedures were to be carried out. Later, the Public Hospitals Authority advised that all electives were cancelled. These included procedures at out-patient specialty clinics inclusive of medical, surgical, dental, ENT (ear, nose and throat), eye clinic and family medicine clinics, which were reduced until further notice.
In a move seen as crippling to healthcare, the Consultant Physicians Staff Association backed by the Bahamas Doctors Union maintained the planned industrial action could range from "work to rule", which means following working rules and hours exactly as they are required to reduce efficiency – utilising sick days, go slow, taking leave as is desired or even demonstrating in the coming days.
According to CPSA president Dr Locksley Munroe, doctors in the country feel undervalued and believe their issues have continued to linger. It is time, he said, the unresolved matters come to a close.
Dr Munroe added that the duration of this action rests on the shoulders of the PHA.There are 120 senior or consultant doctors and 460 junior ones. "As the general public knows this body - the Consultant Physicians Staff Association - submitted an industrial proposal in January of 2016 and since then we have had interactions with Public Hospitals Authority and administrators," Dr Munroe said yesterday.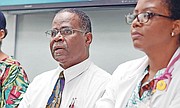 "For us it has been rather difficult primarily because industrial action is not something that physicians generally would be engaged with and essentially we had to learn some very, very painful lessons.
"So far that interaction has been progressive at least in a preliminary manner. However following their directives last year, November of 2017, we were advised concerning financial matters and we followed those directives. We submitted our templates on the manner in which physicians should be reimbursed and yet this is one year later and we still have not come to any sort of resolution or conclusion on the matter of physician reimbursement.
"Given the implications of that, that is what triggered this event today (yesterday) that the body as a whole is frustrated and feels that they are not valued in any way by the authorities and therefore in terms of withdrawal of services, that is what the plan of action is as of today just to let the general public know that the physicians are not satisfied with the manner in which their concerns are being dealt with and therefore we are making a statement to the public in particular just to let them know that there is going to be difficulties and also to the administrators that is time for this matter to come to a satisfactory conclusion."
'Life or death'
"As of today there are going to be industrial action and the public just needs to understand. We hope that they are going to be on our side," Mr Munroe said. 'We are going to continue to ensure that no one's life is at risk. It has to be a life and death situation, however so, yes, the profession of medicine shall look after you far better than our administrators are looking after the professionals in the medicine."
Asked what it would take for the PHA to put an end to doctors' grievances he said: "Essentially they would need to correct our salaries and we are not even asking for what is the true value and worth of the consultants, we're simply asking that our services be honoured. It is still essentially an honorarium that we are asking for so if they can honour that request and as people speak about demand we're not making demands we are simply asking that you respect what it is that we do. Once they do that then everything will be sorted out."
Dr Melisande Bassett, representing the BDU, pointed to the measures taken by the three unions operating under the PHA, which have either taken or sought to take industrial action.
She said this spoke volumes of the level of displeasure among medical personnel.
Dr Bassett said: "Today the presence of myself along with my executive team and other junior doctors is to lend support to the consultant body as well as to bring light to the fact that there are three organisations that work under the PHA that have either gotten approval for strike action or are in the process of seeking it. That in itself, I think, speaks volumes.
"We all face a common obstacle in trying to get the administration to understand that their employees are not indentured servants, but we are partners in healthcare and we can't be marginalised and ignored just because you don't understand the services that we provide.
"To give the public an idea of that the junior doctors with the consultant doctors have been in talks to make certain that emergency healthcare is not withdrawn and all emergencies are met.
"We will support our consultants in ensuring that they are duly compensated for the hard work that they do and when we do get our approval for our strike vote they will support us as well because there are many issues that we face that we all share together and we can't provide the best healthcare to the public if we are disadvantaged, that's the bottom line and we need the administration to understand this," Dr Bassett said.