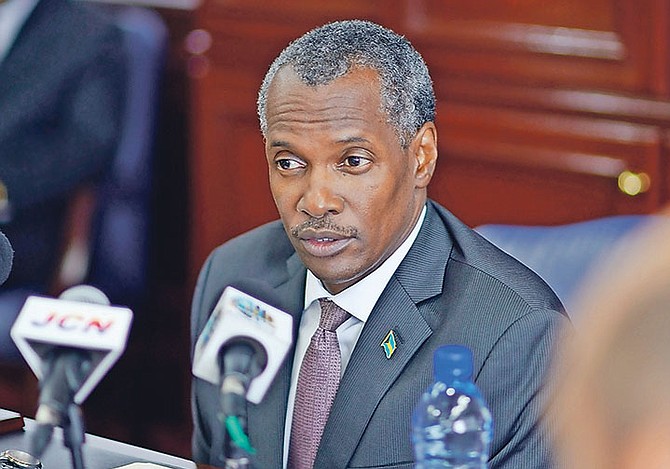 By RICARDO WELLS 
Tribune Staff Reporter
rwells@tribunemedia.net
WORKS Minister Desmond Bannister revealed yesterday that 5,412 households across the country are "off the grid," as a result of not paying energy bills for 60 days or more and collectively owe Bahamas Power and Light more than $5m.
The revelation came as he clarified statements reported in the press that have been attributed to him over the last week.
Those reports, claimed the Carmichael MP, had suggested the number of disconnected consumers had maxed out at around 6,000, with a low point of 4,500.
However, addressing those figures again yesterday, Mr Bannister insisted the total was at 5,412 nationwide.
He said: "For the last 20 years or so, many of our brothers and sisters have been off the grid. And that is a challenge. That is a challenge whether it is 6,000 or whether it is one. One or two are off the grid is a concern for all of us."
Mr Bannister also gave community specific reports for disconnection.
He said there are 4,639 households without power in New Providence.
As for the Family Islands, in Abaco, there are 58 consumers without electricity holding a combined balance of $64,822.10; 14 in Acklins with a combined balance of $36,353.35; 85 in Bimini with a combined balance $136,040.93; 66 in Cat Island with a combined balance of $34,342.43; six in Crooked Island with a combined balance of $13,265.25; 88 in Eleuthera with a combined balance of $113,778.75; 14 in Exuma with a combined balance of $8,108.05; 11 in Great Harbour Cay with a combined balance of $9,349.10; 52 in Inagua with a combined balance of $311,200.15; and 36 in San Salvador with a combined balance of $16,576.65.
Meanwhile, in North Andros there are 132 disconnected patrons holding a combined balance of $128,393; 116 in Central Andros holding a combined balance of $153,458.92; 19 in Mangrove Cay with a combine balance of $11,840.85 and 77 in South Andros holding a combined balance of $80,464.72.
In total, these accounts owe Bahamas Power and Light approximately $5,393,857.50.
His comments came during debate on an amendment to value added tax legislation to increase the VAT exemption on power bills from $200 to $300.
According to Mr Bannister, approximately 52,364 Bahamian household benefited from the exemption when it was offered to consumers who kept their bills at $200 or less.
That marked a cumulative relief of $4m nationwide.
Fuel Crisis
This comes as the government has faced major backlash over the rise in electrical bills in recent months.
Addressing those bill increases yesterday, Mr Bannister moved to explain the process by which BPL calculates its billings.
"BPL charges a base rate for every consumer, everyone," he explained. "If you use zero to 200 kilowatt hours per month, you are charged based rate of 10.9 cents (kilowatt hours); from 201 to 800 kilowatt hours (kilowatt hours), you are charged 11.9 cents and over 800 kilowatt hours, you are charged 14.9 cents per kilowatt hours.
"What many of us don't understand is that base rate does not relate to your fuel consumption. Base rate pays for the operations of the utility. So it pays salaries; it pays for things like installing metres; it pays for trimming trees; it pays for its infrastructure, installing poles and lines; it is for replacing lines; the vehicles that they use. (It pays for) everything except fuel related expenses."
He added: "Now there is something called a fuel charge, that is referred to as a surcharge. It is not really a surcharge, it is really a fuel charge and that is what actually accounts for the fuel expenses. Your actual fuel use is paid for in that fuel charge. So, it is not a surcharge. What happens is that BPL takes the total cost of fuel that is burned…. and they divide that by the total kilowatts of power that you use throughout the Bahamas."
As an example, Mr Bannister used October's fuel and service rates, indicating that the $33,916,303.66 spent was divided by the 166,467,295 kilowatt hours used by consumers across the country - equalling a 21.76 cents charge per kilowatt hour.
He added: "So the fuel charge, based on the total consumption which you will see in December, would have been 21 cents. But BPL doesn't pass the full amount on. They've capped that charge at 19.15 cents. And so, the charge that you actually see, what we call a fuel surcharge, is not a fuel surcharge, it is actually you paying for the fuel that is being used throughout the country."
Added to that, he explained that consumers in New Providence are currently subsidising a large percentage of the fuel cost being levied on Family Island consumers.
He also spoke about changing oil prices on the international markets and their effect locally.
Mr Bannister insisted that it would be irresponsible for anyone to blame the government for these current global trends.
Mr Bannister also referred to the legacy issues plaguing BPL.
"Since about 2004/2005, BPL has been (saddled) with a legacy debt. That legacy debt has reached $500m. 
"The reality is, this is a company that has been saddled with huge debt," Mr Bannister said.
According to the Carmichael MP, it has been a tradition by successive administrations for respective ministries to not pay BPL in a timely manner.
Mr Bannister said BPL has normally been left in arrears from anywhere between $90 and $100m annually due to business practices. That in addition to the longstanding sums of millions owed by consumers.
To date, Mr Bannister revealed that BPL had balances in receivables of $91,796,126.