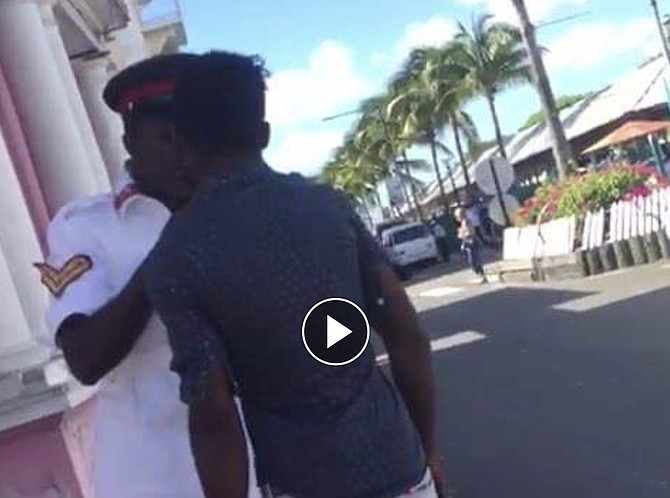 By RASHAD ROLLE
Tribune Staff Reporter
rrolle@tribunemedia.net
THE Royal Bahamas Police Force is still investigating a recent viral slapping incident involving one of its officers.
In the video, made public nearly two weeks ago, a man accused of loitering downtown was slapped in the head after taking a document from a police corporal. National Security Minister Marvin Dames called the incident "appalling."
Deputy Commissioner of Police Emerick Seymour, the person responsible for disciplinary matters, told The Tribune on Friday that it "shouldn't take an extraordinary time" to investigate the incident although he couldn't say exactly when the investigation will be completed.
Despite public outrage over such videos, police rarely make a point of revealing its findings to the public.
In September, Mr Seymour told The Tribune an incident that went viral that month was under investigation, but the findings of that investigation have not yet been disclosed to the public. In that instance, a video showed a bloodied man in handcuffs crying for help as a police officer knelt on his chest. The clip was shared a few thousand times on Facebook. When the suspect said "all my hand and thing bleeding, real talk," the officer said "shut up, shut up." As the suspect heightened his pleas, complaining that his hands were bleeding, the officer said: "Yeah your (expletive) neck gon' be bleeding soon."
In May, Mr Seymour told The Tribune an incident that went viral that month was also under investigation, but police have not yet disclosed the findings from that investigation either. In the one minute clip that went viral, a police officer struck a man in the face at least twice. The caption of the video read: "Two police officers were caught on camera moments ago, beating down a young man in public. He was even beaten more as his friends watched because he began crying from getting slapped." At one point, an office in a khaki police uniform asked the man, "What you crying for?" He then struck the man in the face again.
In April, Police Commissioner Anthony Ferguson told the press a video that went viral that month was under investigation. A 14-second clip in that case showed an officer steadily walking up to a man and slapping him across the face, using enough force to cause the man to stumble more than once. It was apparently not the first time the officer struck the man, as the person recording the video could be heard shouting, "N*a slap him again, bey!"
On Friday, Mr Seymour told The Tribune he would have no problem disclosing the results of investigations if asked about specific cases.
"They can't be under investigation forever," he said.