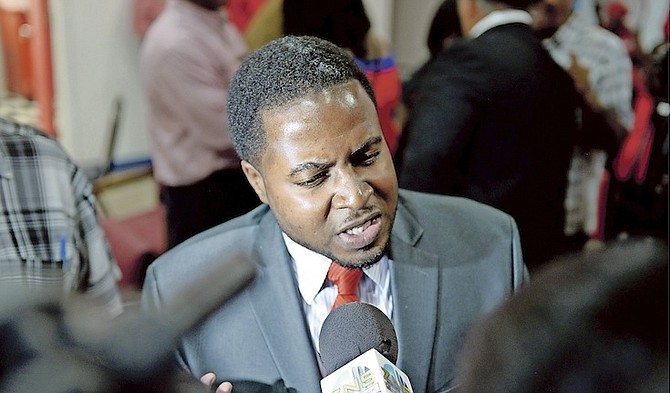 By NEIL HARTNELL
Tribune Business Editor
nhartnell@tribunemedia.net
The Water & Sewerage Corporation's chairman says it closed September on "a high note" by "almost doubling" monthly revenue to $3.6m - with the prospect of much more to come.
Adrian Gibson told Tribune Business that the state-owned water supplier's figures did not include the Family Islands, or payments made via the banks and money transmission services providers, meaning collections could soar well above the month's normal $2m average.
He credited the corporation's fortnight-long advertising campaign, warning of this week's upcoming mass disconnection exercise, with driving the revenue increase by forcing delinquent customers - including "major hotels" and other businesses to bring their accounts current.
Mr Gibson also warned disconnected customers not to seek illegal reconnections, revealing that "follow-up teams" will be dispatched into the field within two-four days on both New Providence and the Family Islands to check for such activity.
He confirmed that illegal reconnections "will be prosecuted to the full extent of the law", with Water & Sewerage Corporation staff "terminated summarily" if found to have assisted with this.
Emphasising that he, the Government and board were serious about improving the corporation's shaky finances, and recovering $45m in accounts receivables to reduce the need for taxpayer subsidies, Mr Gibson said of the disconnection drive starting today: "There will be no exceptions, and no one is exempt."
Expressing hope that the corporation will follow September's performance with a similar "record" revenue collection in October, Mr Gibson said the improvement had come despite pressures faced by households as a result of Back-to-School spending and the traditional tourism "slow season".
"We're ending the month on a high note at the corporation," he told Tribune Business. "Right now we're at $3.6m, and that's almost double what we expected this month. And we still have another day to go, and have not got payments yet from the major banks and the likes of Cash N' Go and Mango.
"We've been running ads for two weeks warning people to come in before mass disconnections that will commence next [this] week. As a result of that, we've had the best September in the Corporation's history, and we still have tomorrow [Saturday] and the Family Islands.
"The usual average is somewhere around $2m, with $2.5m the top limit. We have had this record September, and I expect we will have a record October. September is usually a difficult month with back-to-school, and persons are faced with paying bills and financial concerns and so forth. But the Corporation has to be a going concern, too."
Mr Gibson said the water supplier's revenue streams and cash flow had been a problem for years, with some customers "owing money for years" and building up large accounts receivables balances.
This week's touted "mass disconnection" will target such non-payers, and the chairman added: "We'll disconnect without fear or favour. And we're not just going to disconnect.
"I've already directed that when disconnections happen, two, three, four days afterwards we're going to dispatch a follow-up team to ensure there are no illegal reconnections.
"Those persons reconnecting, we're going to plug the line. We might well remove the supply line, and will certainly prosecute to the full extent of the law. We are not going to tolerate illegal reconnections," Mr Gibson continued.
"Anyone engaging in that will be prosecuted, and any staff participating in that or doing illegal connections will be terminated summarily."
Confirming that similar oversight will be applied in the Family Islands, Mr Gibson said: "We will deploy a supervisory management team to monitor and oversee disconnections there.
"Most people there are inter-connected families and so on, and persons will sometimes do their job and disconnect only for someone else to reconnect. We want to make sure these plans are borne out and all the necessary follow-up takes place."
Suggesting that warnings of the Corporation's planned 'get tough' approach were starting to have an impact, Mr Gibson revealed: "We've had several major businesses make major payments to the Corporation, including major hotels and business establishments.
"In October, we intend to double or triple what the usual intake for October is. With $45m out there, we have to claw that back, and we've planned to claw that back by any means necessary and intend to do so."
The Corporation's chairman said he was recruiting from the private sector, including the banking industry, to bolster its credit and collections team and change the culture to one where it is "run like a business".
"To run like a business requires a private sector approach to these collections," Mr Gibson said, adding that he also planned to extend operating hours at the Corporation's call centre to 9pm to ensure delinquent customers had absolutely no excuse for saying they were unaware money was owed.
"We've had complaints that people have been caught in traffic," he added. "With the call centre closing at 6pm in the evening, a lot of people are still in traffic. We want to catch them at home.
"We're going to give you every opportunity to come in and make payment. If not, that's on you. I urge all persons to come in and make payment, or enter into a payment plan."