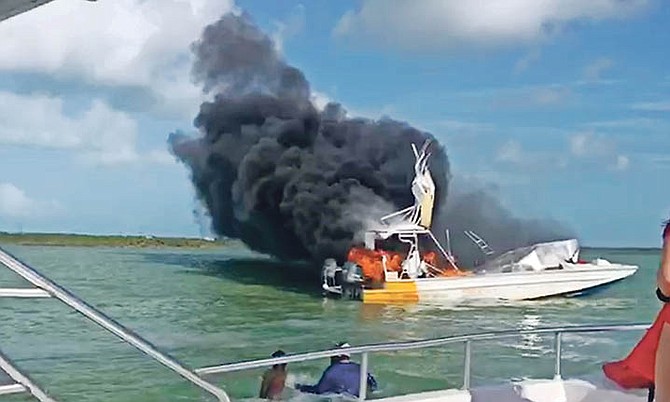 By KHRISNA RUSSELL
Deputy Chief Reporter
krussell@tribunemedia.net
THE fatal 4C's Adventures boat accident will now be turned over to the Office of the Attorney General, Transport and Local Government Minister Renward Wells said yesterday, adding a scathing report into the tragedy brings to light the need for government to "tighten up where it is slack".
As he suggested there could be a legal response from the US government or the victims and their families, Mr Wells said he's already taken steps to clamp down on the sector with instructions to the Port Department to have every ship and boat owner come in for inspection.
In the wake of the release of the Bahamas Maritime Authority's damning report into the incident, the minister, who is an engineer by profession, expressed "disappointment" with the loose stipulations for those operators who prefer to build craft for commercial use.
There is also concern, he said, of implications internationally to the country's tourism market with the report turned over to US officials and those affected.
The BMA's report into the explosion that killed a woman and injured ten others found that the company broke the law by operating a boat that was neither registered nor ever inspected by the Port Authority.
"It is quite alarming as to the lack of manpower that we have in Exuma," Mr Wells said in response to a question from The Tribune yesterday outside Cabinet. "It is alarming as to how this situation developed and yesterday (Monday) I moved to issue certain instructions to the Port Department to have every ship, every boat owner in Exuma to come in and for us to inspect their vessels so that we're able to bring the requisite regulations to this industry and not just in Exuma, throughout the country because we understand that this is not just a situation that's just in Exuma.
"As you know, the report says it cannot say conclusively what caused the accident but we do know that the design of the boat is perhaps an issue that the fuel lines being used was not spec'd for gasoline and you know if hoses are not spec'd they dry rot and gasoline by itself is not explosive (sp).
"Gasoline from the pump goes off into the air and there's no problem but if it is in a contained space then it becomes a problem and so where he had his fuel tanks encapsulated in those pontoon (flat bottomed-boat) we understand that could have been an issue as well, the overall structural design."
He continued: "So what I'm looking to do as an engineer I will tell you I am somewhat disappointed because in engineering before you can actually live in a building, ride a vehicle, the design has to be done on paper. That design has to be approved on paper by either an electrical engineer, a mechanical engineer, a structural engineer, a civil engineer (or) an aeronautical engineer for airplanes or a naval architect. In the case of boats, (there) should have been a look at those drawings and say this is a boat that we feel is safe. That is not done in The Bahamas. So we have a number of persons who have built boats.
"And so as a part of the Port Department what I am going to be doing is that before those boats are actually built we do have a naval architect who is going to look at those designs to ensure those designs are actually safe before we let persons construct them especially for commercial purposes."
Asked if there was a concern the overall industry could suffer now that the report was in the public domain, the minister said: "There is concern and where we're slack we tighten up, we're going to tighten up." However, he did not say whether there would be any penalty for officials who issued Four C's licences despite the boat never having been inspected.
"Like I said, I am still going through it. I was reading it yesterday, last night I haven't completed it as yet and it's going to be turned over to the AG's Office and so the attorney general is really going to have to weigh in.
"Obviously when the report was released it was also given to both the victims and to the United States government who has this report and so we'll be waiting I guess to hear what comes of it and the Bahamas would then have to respond."
He said former Transport Minister Frankie Campbell, now the minister of social services, had done a number of initiatives to try and bring the industry and the Port Department into compliance.
"I am going to be following in that vein to bring in the requisite IT technology, information technology, to know which boats are registered because they're supposed to be registered and inspected throughout the country and so we're going to bring in a system whereby we can say for sure that every boat out there, commercial vessel that sails and plows the seas of The Bahamas is safe for commercial traffic."
"Under no circumstances" should 4C's have operated the "craft on a commercial basis," investigators wrote in their report.
Among the findings were that the home-built boat's "fuel-fill and vent hose did not appear to meet the required specification for its intended purpose; the craft had not been constructed to a recognised standard, or to naval architectural or technical drawings; and the craft's construction and equipment materials were not verified for suitability of use".
Investigators also concluded that the Port Department of Exuma has not been "adequately resourced to control and regulate commercial water crafts operating on the island", noting in their report that a "significant number of commercial crafts operating within the waters of Exuma are not registered with the Port Department despite having submitted valid applications. The mechanical, structural, and safety standards required to be met cannot be verified."
The explosion scenario could not be reconstructed because of absent "technical drawings, electrical circuit diagram and a schematic of the permanently installed fuel system," the report said.
Nevertheless, investigators determined with a "high degree of probability" that the explosion originated "in the proximity of the starboard fuel tank resulting in the release of a last wave on the starboard side, beneath the front three rows of seats."
The captain of the boat, a 42-year-old man, had a valid master's licence. The first mate on the vessel was a 12-year-old boy, the son of the 4C's owner, and had no "qualifications or endorsements". It is not unlawful to have a minor as a first mate.
A Georgia woman, Maleka Jackson, was killed in the June 30 accident. Among the ten other people injured were Tiran Jackson, Mrs Jackson's husband who lost a leg, and Stefanie Schaffer, a 22-year-old woman from Vermont who had both of her legs amputated.