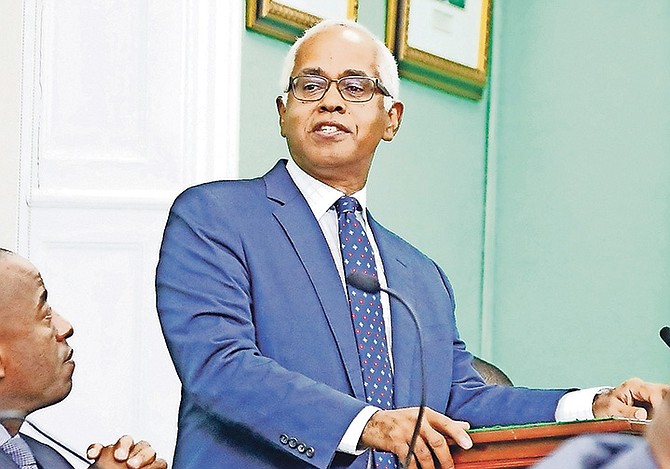 By NATARIO McKENZIE
Tribune Business Reporter
nmckenzie@tribunemedia.net
THE Government plans to tax the vacation rental business from New Year's Day 2019, with Airbnb having agreed to collect and remit levies on properties it markets to the Treasury.
Dionisio D'Aguilar, minister of tourism and aviation, told Tribune Business yesterday: "The Government is hoping that on January 1 it will begin to implement taxation on vacation homes. It's really a tax matter, and the specifics of how that tax will be rolled out will come from the Ministry of Finance."
K Peter Turnquest, pictured, deputy prime minister and minister of finance, told this newspaper: "Implementation details for taxing the vacation home rental sector are still being finalised. However, the Ministry of Finance is working to introduce VAT some time in the New Year."
"A small legislative amendment is necessary, along with a period of education and consultation. We will issue final announcements when everything is in order to be rolled out."
While there are concerns over the impact that Airbnb-type operations have on the traditional hotel segment, Mr D'Aguilar downplayed those fears. "I think it's really just a new market," he added.
"I think that there are people who don't want to travel to traditional hotels who probably would not have come here had it not been for an Airbnb-type product, such as large families looking to economise and want to buy their own food. I would like to think that it is a new channel of revenue.
"The one thing that is concerning, though, is that Airbnb customers get on planes and they take up seats, especially at critical times of the year, that your traditional hotels would want. Hotels would have a package; a deal or promotion at that time," the Minister continued.
"We have to take into consideration that there are customers using up seats to come to the country that are not contributing to our traditional hotel sector. We don't collect information from Airbnb customers so I have asked my Statistics Department to review the Airbnb MOU (Memorandum of Understanding), what they promised us and to start to get information from them so we can intelligently address this second home rental market. It's an evolving industry."
The Prime Minister yesterday said he met Airbnb's chief executive, Brian Chesky, at the Bloomberg Global Business Forum and obtained a commitment that the vacation rental site will keep track of all Bahamas-listed properties, deduct the relevant tax and remit this to the Government.
"I had the opportunity to meet the chief executive of Airbnb, at which time I discussed the challenges and problems we face with second homeowners and rental facilities throughout The Bahamas," Dr Hubert Minnis said.
"He has agreed that if The Bahamas would implement any form of taxation for such facilities, Airbnb would keep a register of all facilities within The Bahamas who have applied to their organisation, and they would deduct the relevant tax and have it repatriated to the The Bahamas government."
The Central Bank of The Bahamas' monthly report for August, released on Monday, said vacation rentals continued to grow in popularity among stopover visitors with average daily room rates (ADR) jumping by 1.8 percent to $319.77. Airbnb bookings increasing 41 percent year-over-year for August.
"Indicative of the growing popularity of the short-term private rental market, data from Airbnb showed a 41.2 percent increase in booked listings via the Airbnb platform during August for all Bahamas in comparison to the same period in 2017," the Central Bank said in its report.
"These results are also influenced by the fact that more properties are listing on the site each year. In terms of the broad trends in the major markets, the number of listings in Exuma firmed by 54.7 percent, while gains of 37.8 percent, 34.8 percent and 28 percent were noted for New Providence, the Abacos and Grand Bahama, respectively.
"In terms of the key segments, the ADR for the entire place listings rose by 1.8 percent to $319.77, while that of hotel comparable listings fell by 3.1 percent to $132.19."