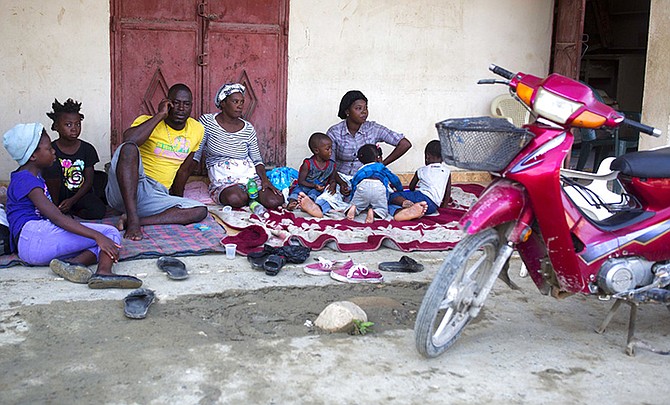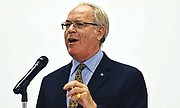 By KHRISNA RUSSELL
Deputy Chief Reporter
krussell@tribunemedia.net
IMMIGRATION Minister Brent Symonette agrees aid does not need to be offered to Haiti in the wake of Saturday's earthquake, noting the most recent natural disaster did not rise to level of devastation left behind by a similar incident to that country in 2010.
"I would imagine from the prime minister's comments, no," the minister said when he was asked about The Bahamas possibly relaxing borders in response to the ruin brought by the 5.9 magnitude earthquake on the weekend.
In January 2010, the Ingraham administration controversially offered temporary legal status to Haitians and released those being detained at the Carmichael Road Detention Centre. It was the government's response to a magnitude 7 earthquake that struck 25 kilometres west of Port-au-Prince – Haiti's capital.
Some 250,000 people were said to have died as a result.
Mr Symonette continued: "The earthquake in Haiti this time is not the same magnitude if my memory serves me correct as the one before. It has not caused the amount of destruction. That was a particularly strong earthquake that left thousands of people homeless, dead and caused damage to the infrastructure this one is not of that magnitude."
This time around, the death toll is said to be about 15 with some 333 injured. Several buildings have also collapsed including an auditorium and parts of a hospital, international news agencies have reported.
Mr Symonette was referring to Prime Minister Dr Hubert Minnis' response to a Tribune question on Monday when he was asked if reprieve would be offered to Haitian nationals affected by the earthquake as was the case with Dominicans in the aftermath of Hurricanes Irma and Maria in 2017.
In response, the prime minister said on Monday: "At this point in time, I am looking at moving the Bahamas forward, Bahamas first."
My Symonette also gave his understanding as to how the government intended to strengthen border protection, adding that a drone system was now being piloted by the Ministry of National Security.
"The government of the Bahamas has put its various agencies on alert in the event there is an influx of persons resulting from the earthquake in Haiti. So they'll be increasing their normal border patrol between the defence force, air wing, immigration, police so on and so forth."
"The government has been looking (and) being piloted by the Minister of National Security (Marvin Dames) with the whole question of using drones as a way of assisting with border control and other security devices," Mr Symonette also said.
However, he said, questions regarding a timeline for the system's implementation should be directed to Mr Dames.
Additionally, he said, changes to the Immigration Act would be forthcoming before the end of the year.
On Monday, Dr Minnis told The Tribune he was greatly "concerned" that Saturday's earthquake in Haiti could trigger an influx of undocumented migrants, including dangerous criminals who may wreak "havoc" in the country.
As he warned authorities will not tolerate harbouring such immigrants in any form and foreshadowed a doubling down of border patrols, the prime minister called on Bahamians to be vigilant in the coming days.
In view of the situation, which has the potential to stress already "strained" healthcare and other social systems, he said officials are aggressively implementing a new drone system to monitor borders where there may be a shortage of Royal Bahamas Defence Force patrols.
According to Dr Minnis, the situation is even more worrisome because the government was informed prisoners are on the loose after a jailhouse in Haiti reportedly sustained serious damage allowing offenders to flee.
He said it should be assumed these people committed heinous crimes and were viewed as such by local authorities. But there appears to be conflicting reports about a prison escape. According to the UK Express, Haitian newspaper Le Nouvellist reported "that detainees being held in a police cell in the Gros-Morne region escaped after the building was damaged."
However news agency Reuters reported that Haitian officials foiled a jail break.
"On Sunday, prisoners organised a riot to escape and got out of their cells, but guards and riot police foiled the jail break, said Jackson Hilaire, police chief for the northwest region," Reuters reported yesterday.