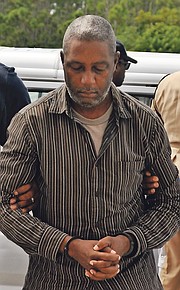 By DENISE MAYCOCK
Tribune Freeport Reporter
dmaycock@tribunemedia.net
A Haitian man who was discovered with no legal status was charged in the Freeport Magistrate's Court not only with overstaying his time in the country, but also with a more serious offence of raping a minor.
Felicos Joseph, 52, of Cap-Haitien, Haiti, appeared before Deputy Chief Magistrate Debbye Ferguson. An interpreter was called in to assist the court and the accused, who could not speak English.
On the rape charge, it is alleged that between November 25, 2017, and March 3, Joseph had unlawful sexual intercourse with a 13-year-old girl.
He was not required to enter a plea to the charge. Bail was denied and the matter was adjourned to February 28, 2019. The matter will be fast-tracked to the Supreme Court through a voluntary bill of indictment where the accused will have to answer to the charge.

On the separate charge of overstaying, it is alleged that on October 1, Joseph was found in Freeport after the expiration of an 18-day visitor's permit granted to him by the Immigration Department on March 9, 2014.
He pleaded guilty to the offence.
According to the particulars, on October 1, Joseph was arrested by police for alleged unlawful sexual intercourse with a minor. On October 5, the Immigration Department was contacted to make inquiries into his status.
An immigration officer told the court that on checking the accused's passport they learned that Joseph had entered the country on March 9, 2014, as a missionary on a short-term worker's permit until March 27, 2014.
The officer said Joseph had overstayed his time in the country by four years, and as a result was charged with overstaying.
With the help of an interpreter the magistrate asked Joseph about his coming to the country for missionary work.

Joseph said someone brought him to the country on the pretext of being a missionary but that he is not one.
When asked where he has been the past four years, Joseph said that he was in Nassau for two years and the woman who brought him to the country left him and took his money. He said he learned that she was in Freeport and he came to Freeport, where he remained for the next two years.
He claimed that he paid the woman $6,000 to marry him so he could get a resident's permit to live and remain the Bahamas. He said that he could not find her and does not know where she is.
Magistrate Ferguson convicted Joseph of overstaying and ordered him to pay a fine of $3,000, and one-year imprisonment. If he fails to pay the fine, she said he would have to serve an additional one year to run consecutively.
Joseph said that he knew he came into the country illegally and he has no money to pay the fine. He explained that he was betrayed by the woman whom he had paid $6,000. He asked the court for forgiveness and to allow him instead to be deported out of the country as he is not working and has no way to pay the fine.
Magistrate Ferguson told him that she could not do that as there are criminal charges against him. He was denied bail and was told he could apply to the Supreme Court for bail.