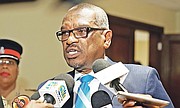 By MORGAN ADDERLEY
Tribune Staff Reporter
madderley@tribunemedia.net
PRESS Secretary Anthony Newbold yesterday defended Prime Minister Dr Hubert Minnis' response to the Haitian earthquake, saying the nation's leader has always shown empathy to Caribbean nations affected by natural disasters.

However, Mr Newbold said Dr Minnis ultimately has to ensure Bahamians are not "adversely impacted" by these events, particularly as it relates to the possibility of an increase in illegal immigration.
Activists, however, have criticised Dr Minnis for the disparity between how he responded to Dominica in the aftermath of Hurricane Maria and Haiti following this latest earthquake.

During yesterday's press briefing, Mr Newbold also said the Royal Bahamas Defence Force ship HMBS Bahamas is currently on its return trip from the Netherlands, where it spent the last 20 months being refitted.

Mr Newbold connected the ship's return to comments Dr Minnis made on Monday. At the time, Dr Minnis said he is greatly "concerned" that Saturday's earthquake in Haiti could trigger an influx of undocumented migrants, including dangerous criminals who may wreak "havoc" in the country.
Dr Minnis called for Bahamians to remain "vigilant" in the wake of the earthquake and people allegedly escaping a Haitian jail after it was compromised.
However, there appears to be conflicting reports about a prison escape. According to the UK Express, Haitian newspaper Le Nouvellist reported "that detainees being held in a police cell in the Gros-Morne region escaped after the building was damaged."
However, news agency Reuters reported that Haitian officials foiled a jail break.
"On Sunday, prisoners organised a riot to escape and got out of their cells, but guards and riot police foiled the jail break, said Jackson Hilaire, police chief for the northwest region," Reuters reported yesterday.
Meanwhile, Mr Newbold said: "The prime minister (spoke) yesterday about…what happened in Haiti, not only for the well-being of the citizens there but for what may happen as a result of criminals being set loose and quite possibly trying to make their way here."

Mr Newbold said after the 200-foot patrol craft has returned, it will "jump in the fight to continue to protect our borders."
Regarding criticism that the prime minister's response to the earthquake was not empathetic, Mr Newbold pointed to Dr Minnis' history of empathy.

"The prime minister, he's expressed and demonstrated empathy for all citizens of the Bahamas, citizens of those countries impacted by earthquakes, hurricanes, down in the Caribbean. The prime minister will do whatever he can, always has, for those who are disadvantaged, beginning with Bahamians.

"Prime Minister was doing what he is mandated to do as prime minister of the Bahamas, and that is express concern that whatever happens in Haiti or any other country, we're not adversely impacted by whatever happens there.

"Prime Minister is always concerned. He's talked again about those who come here and we're dealing with in the shantytowns and the fact that we're going to deal with everybody as humanely as possible.

"But after you've gone past all of that, (Dr) Minnis is the prime minister of the Bahamas. And whatever other relationship we happen to have with Haiti, we have a difficult one with illegal people attempting to come to the Bahamas illegally from Haiti. We have to be concerned about that and that is all he was doing."
Following Hurricane Maria's devastating impact on Dominica last year, the Minnis administration announced its intention to relax immigration restrictions for some citizens of Dominica.

Dr Minnis was brought to tears in the House of Assembly as he spoke of the decimation in the island nation.

When asked if the prime minister's disparate responses to Haiti versus Dominica reflected a double standard, Mr Newbold said no.

"Not at all. They reached out for assistance, and he did that. And whatever we can do, as we can do, for anyone who asks for our assistance, we will do that."
When asked if the Haitian government has specifically reached out to the Bahamas for assistance, Mr Newbold said he was not aware.

Mr Newbold was also unaware if the Minnis administration has sent any formal communication to the Haitian government expressing the concern about the possible increase in illegal immigration. Mr Newbold added this is typically under the remit of the Ministry of Foreign Affairs.

Mr Newbold also could not provide information on where the prime minister got the intelligence on the allegations that convicts escaped from a Haitian jail.

Rights Bahamas representative Louby Georges castigated Dr Minnis' response to the earthquake and highlighted the disparity between how the prime minister responded to Dominica in comparison to Haiti.

"It's funny that not too long ago, a natural disaster hit one of our Caribbean sister countries in Dominica," Mr Georges told The Tribune. "And our prime minister was in the House of Assembly with tears in his eyes appealing to his colleagues and to the nation and talking about having humanitarian hearts and Christian values in our hearts and opening up and helping our brothers and sisters in need.

"But, today, in Haiti, a (Caribbean Community) CARICOM sister country, a natural disaster struck them now. And the CARICOM sister country that has had it the worst over centuries. And now…where is the concern?"
Mr Georges underscored that the Bahamas has no obligation to help Haiti and acknowledged the country may not have the means to help. However, he reiterated that the prime minister did not have to make those comments at all and accused Dr Minnis of "fear mongering".