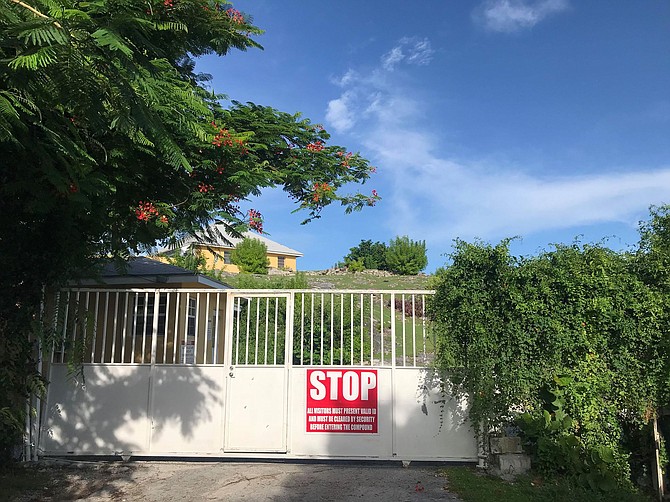 By KHRISNA RUSSELL
Deputy Chief Reporter
krussell@tribunemedia.net
A SECOND group of juvenile inmates in as many months escaped from the Simpson Penn Centre for Boys on Friday, Social Services Minister Frankie Campbell revealed yesterday, shedding light this time on the need for procedural changes at the facility.
He also warned that "somebody" would have to give an account as to how this incident was allowed to take place a second time, but under different circumstances.
Speaking to reporters outside Cabinet, the minister said the discovery was made as a group of boys being supervised were under a pavilion watching television.
One of two supervisors excused themselves to use the bathroom and upon returning it was said one boy was missing. An additional check revealed three more could not be accounted for. 
However, since the incident, one juvenile inmate was handed over to authorities and is being processed.
Still, the minister said the number remains at four because one boy missing from the escape in August, when 13 inmates left the compound through the ceiling of one of the dorms, remains at large.
He appealed to the public for help in finding these missing boys and warned that to harbour them is an offence.
"Information is that on Friday evening sometime around 8pm, a group of the residents at the Simpson Penn School for Boys were under a pavilion that is there for them watching television, under the supervision of two of the staff members, when one staff member would have left to go and use the restroom," Mr Campbell told reporters yesterday.
"On returning it was discovered that one boy was missing (and) further checks revealed that four boys were missing. Since then one boy was returned by parents or guardians and so at this time three of those boys are at large along with one boy from the previous escape when 13 of them escaped."
He said this time it was not yet known how they escaped.
"The reports haven't reached me officially as yet but obviously it's not the same method that was used the last time. They were not in a cell or in a room or in a dormitory, they were out under a pavilion that's open and so they were being supervised. Somebody's going to have to give an account, but in the meantime while that is being sorted out we want those boys safely returned to the school."
Asked by The Tribune whether there would be additional safeguards implemented at the school, the minister said: "Well what we did since the last escape (was) we made some corrections with the physical plan. This time I don't think it had anything do to with the physical building itself because they were outside under a pavilion being supervised, so this seemed to be a procedural issue which is going to be reviewed and the necessary corrections made."
Police did not report this latest escape and it is unclear why.