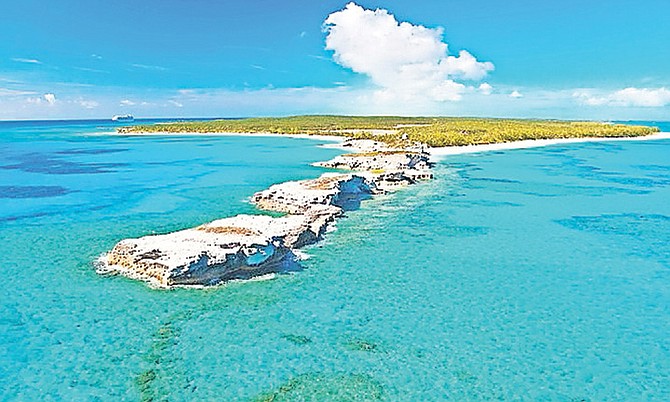 By NEIL HARTNELL
Tribune Business Editor
nhartnell@tribunemedia.net
The Eleuthera Chamber of Commerce's president yesterday called for "a much bigger partnership" between community, government and developer to maximise the Disney project's benefits.
Thomas Sands, speaking after last night's Town Meeting on the proposed Lighthouse Point development, told Tribune Business that an incentive regime similar to the over-the-hill Economic Empowerment Zone (EEZ) was needed to enable South Eleuthera small businesses to exploit the economic spin-offs from Disney Cruise Line's presence.
With the prime minister giving every indication that Disney's acquisition and development plans for the 700-acre property are likely to be approved, Mr Sands said it was critical that the local community hold both the cruise line and the Government accountable "in a positive way".
Emphasising that it was vital for Disney to fulfill its obligations, especially the pledges of continued full public access to Lighthouse Point, environmental sustainability and minimal footprint, and the ability for its passengers to go off-property, the Eleuthera Chamber chief called for the cruise line to sign a "community agreement" as well as the standard Heads of Agreement with the Government.
This, he suggested, would focus on scholarships and educational opportunities to create "a labour pool" that benefits Disney and south Eleuthera businesses, adding that the Lighthouse Point project represented an opportunity to create "a new model for doing business in the Family Islands" based on a "trifecta partnership" with government as the third element.
Mr Sands, urging the Minnis administration to extend its Economic Empowerment Zone model to south Eleuthera and other depressed areas, told Tribune Business: "If the Bahamas government wants to maximise the benefits it will have to do things like that.
"There's also a level of holding the Bahamas accountable for the return of resources back into these communities, and putting in place incentives and concessions to help build local businesses. These kind of [EEZ] concessions have to be put in place."
Using one of his own businesses as an example, Mr Sands explained: "I am in the tour business, and one of the tours we operate is a series of dune buggy tours. The rate of import duty on that equipment is 75 percent in a market where you have limited traffic.
"It's very difficult to make the business model work, especially if you're starting from scratch. The tour business has also evolved beyond taxis and buses. It's now the utilisation of a variety of vehicles and equipment to deliver the experience.
"To build the business, and we do business with Princess and Carnival Cruise Lines; to make that happen we've had to put our own infrastructure into the cave system to access it. We had to build out and fund the entire investment," he continued.
"These things have to be considered. There is a responsibility that goes beyond Disney coming here as a private investor. There's a much bigger partnership that has to take place, involving the whole community and the Bahamas government."
Mr Sands said several residents present at the Town Meeting urged Dr Hubert Minnis "to strike the best deal possible for the Bahamian people and make sure it's [the Disney cruise line project] impactful not only today but into the future".
Disney is promising a $350-$400m investment, which the Eleuthera Chamber chief previously said was the single largest outlay in south Eleuthera for generations, to establish a beach break-type destination for its guests. Half the spend will go on the cruise ship dock and pier, with the cruise line pledging to create 150 direct jobs.
"I personally would not only like to see a Heads of Agreement, but a commitment to a community-based agreement that is enforceable," Mr Sands told Tribune Business.
"It would definitely speak to things like scholarships, and the ability to develop young people and vocational training, funding for entrepreneurs and funding for partnerships in the delivery of tour experiences, development of infrastructure and facilities for sports so you're building a labour pool into the future. It would speak to things like that to help build the product in the community."
Mr Sands acknowledged that ensuring Disney lived up to its commitments, and the Government's ability to enforce and monitor this, was "a big concern" for the south Eleuthera community.
"Eleutherans have heard so much about what's to come, what's promised and it's not come to fruition," he explained. "There is a big concern over follow through, execution, and assurances to the community that the project will not only create jobs as quickly as possible but generate entrepreneurial and more meaningful opportunities than just jobs.
"The public that attended the meeting last night was very clear what their position was, and that was support of Disney with the understanding that safeguards will be put in place with follow through and a review over time to make sure Disney has followed through with its commitments and obligations."
Mr Sands said the Disney project "could be a major driver" of south Eleuthera's economy that enticed former residents to return home, and added: "What we're looking for is a partnership; a good corporate partner and relationship.
"Disney is potentially one of those that could be a good corporate partner, and has the resources to execute for all of us. It's holding them accountable in a positive way. We must be proactive, the Government must be proactive, and the community must be proactive in ensuring it has the qualifications and the experiences we offer.
"It's a trifecta partnership people are looking for, but they want to feel they have a real chance of succeeding."