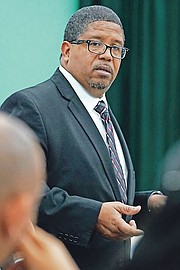 By NEIL HARTNELL
Tribune Business Editor
nhartnell@tribunemedia.net
The Government is targeting 2.5 percent GDP growth as a "reasonable" short-term goal, asserting that the IMF's recent assessment is "a boost of confidence" for its economic plans.
KP Turnquest, deputy prime minister, told Tribune Business in a recent interview that The Bahamas was capable of exceeding the International Monetary Fund's (IMF) recently-revised economic growth projections despite the "fragile" global outlook.
But, while the Washington-based Fund "substantially maintained" its 2018 and 2019 GDP expansion estimates for this nation, Mr Turnquest said much remained to be done for the Minnis administration to fulfill its "growth agenda".
Describing the initial fiscal impact from July's 12 VAT rate hike as "encouraging", the deputy prime minister added that the Government was aiming to enact "ease of business" reforms "that people will feel" early in the New Year.
He said the speed at which Bahamian and foreign investments are approved, and promotion of The Bahamas as "more than a resort destination", were key areas in which this nation needed to improve if it was to carry its growth momentum beyond the short-term.
Asked about The Bahamas' GDP growth potential if it got the economy right, Mr Turnquest told Tribune Business: "Maximum rate is hard to predict, but in the region of 2.5 percent is not unreasonable over the next year or two.
"We continue to believe that we have put forth a good economic plan founded on our core business of tourism and financial services, while at the same time looking for new opportunities in the technology hub initiative, agriculture and the blue economy, as well as a concentrated focus on MSME (micro, small and medium-sized enterprises) development through the recently-launched Small Business Development Centre, a refocused Bahamas Development Bank and other related stimulative activities.
"The endorsement of the IMF in maintaining substantially our projections is a boost of confidence, but we recognise this growth is fragile with global trade tensions threatening to disrupt global gains, and continued evaluation of risk to the financial services industry. So we remain cautiously optimistic and continue to be focused on our growth agenda."
The Fund, in unveiling its revised World Economic Outlook last week, chose to shave - rather than slash - its GDP growth forecasts for The Bahamas for both 2018 and 2019. It cut its economic expansion prediction for this year from 2.5 percent to 2.3 percent, while reducing its 2019 estimate by just 0.1 percent - from 2.2 percent to a revised 2.1 percent.
With the revised national accounts data suggesting The Bahamas has a $10-$11bn economy, the IMF's estimates effectively slash economic growth by $20-$22m this year and $10-$11m for 2019. This, though, does not alter the Fund's prediction that this country will enjoy the most rapid GDP expansion it has seen for a decade over these two years.
Several private sector executives previously told Tribune Business they were "pleasantly surprised" that the IMF did not cut The Bahamas' GDP growth forecast more deeply, with some having expected the Budget's 60 percent VAT rate hike to cut 2018 GDP growth by up to a full percentage point.
Acknowledging the VAT concerns, Mr Turnquest said: "From the beginning we believed that we had considered the potential fall-out, and recognised certain economic fundamentals supported the action we took. We also believed that a stable fiscal balance, lower deficit spending and eventual debt reduction would be stimulative.
"Despite a slight uptick in inflation, the early results are encouraging, and further actions being taken with the Fiscal Responsibility Act and other planned reforms will hopefully lock in the savings necessary to achieve our targets."
Improvements to the 'ease of conducting business' in The Bahamas have been a priority for successive governments, the private sector and agencies such as the IMF, although this nation halted its slide in the World Bank's rankings by coming in 119th last year.
"We have made significant progress, but a lot of work and legislative reforms remain to be done to reach our targets," Mr Turnquest said of 'the ease of doing business'. "We anticipate achieving tangible results that people will feel within the next few months
"There are a number of legislative reforms on the drawing board that will make both the cost and ease of doing business more competitive and investment friendly. The Prime Minister's ease of doing business committee has made a suite of reform recommendations, and we are evaluating them for early adoption in the New Year."
Agreeing that The Bahamas needed to quicken, and deepen, its economic reforms, Mr Turnquest continued: "We must pick up the pace of investment approvals and the whole process of on boarding investments, and taking them through the operational stage. This applies to domestic and FDI (foreign direct investment).
"We must continue to promote The Bahamas' value proposition and expose the destination as more than a resort destination. The annual technology hub conference is one way to get our names out there for other opportunities, and we need to encourage other brand ambassadors to do the same."