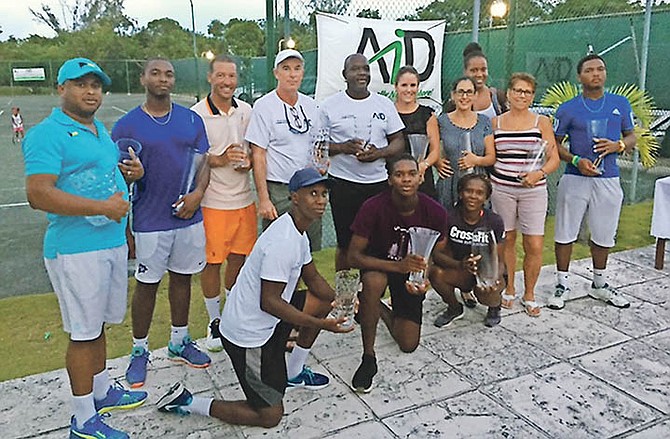 THE 26th annual AID Clay Court Championships recently concluded at the Gym Tennis Club in Winton Meadows with the presentation of awards to all finalists.
This was preceded by the final match in which Shannon Francis and Kevin Major Jr defeated Derron Donaldson and Robie Isaacs for the men's Open Doubles title in a very entertaining match between the "young guns" and the "older pros."
Seven divisions were contested during the two week tournament and the other five champions were:
Ladies Jr Vets Singles –
Marion Bain
Ladies Jr Vets Doubles – Marion Bain & Richette Percentie
Men's Open Singles – Kevin Major Jr
Men's Open Doubles – Shannon Francis & Kevin Major Jr
Men's Jr Vets Singles – Brent Johnson
Men's Jr Vets Doubles – Gerry Kanuka & Paul McCann
Mixed Doubles – Derron Donaldson & Larikah Russell
Attractive crystal trophies were presented to all finalists by Darrol Hall, president of the host Gym Tennis Club. Referee Mickey Williams thanked AID for its perennial sponsorship of the tournament and its generous support of Bahamian tennis in general. Marion Bain was also recognised for her behind-the-scenes efforts in preparing delicious snacks anddesserts during the tournament, in addition to winning the Ladies Jr Vets Singles and Doubles titles.
Complete results of all matches can be found on the Bahamas Lawn Tennis Association's website: www.blta.net