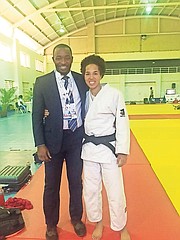 NATIONAL judo champion Cynthia Rahming (under 57kg) defeated athletes from the Dominican Republic and Canada before losing in the medal rounds to gain a fifth place finish at the Santo Domingo Pan American Open.
She was coached by Omri Kelly, a level one graduate of the IJF academy. This allowed her to gain badly needed points for Olympic Qualifications and to move up the World ranking ladder. This tournament signifies the best result ever by a Bahamian athlete in senior judo competition of this level.
"We are pleased with Cynthia's development and results," said head coach Oneysin Portorreal Pons who prepared Cynthia and coach Omri for the competition. "We fixed a major whole in Cynthia's game after the CAC games, which enabled this victory. We are expecting many more results to come."
Cynthia will fight next at the Grand Prix in Cancun, Mexico.
In the meantime national champion Breanna Major (under 70Kg) will represent the Bahamas at the Senior World Championships in Baku Azerbaijan on September 20. This will be her debut tournament at the Senior World level. She will be coached by High Performance Director D'Arcy Rahming Jr. "We have every confidence in Breanna" says Rahming. She will also fight alongside the team at the Junior Worlds October 17-21 in Nassau, Bahamas.
Tickets and other information can be found at bahjudo.org