By RENALDO DORSETT
Tribune Sports Reporter
rdorsett@tribunemedia.net
THE University of the Bahamas athletics programme introduced its teams as the Mingoes prepare to contest the 2018-19 season.
Coaches and members of the track and field, judo, men's soccer, men's basketball along with women's volleyball discussed their goals for the season and plans for development in the immediate future.
The Mingoes men's soccer team had arguably the most successful year of any discipline last season and head coach Dion Godet looks to build on that momentum.
The Mingoes captured the Bahamas Football Association league championship with an undefeated record.
"We have some very lofty goals and perhaps a bit more pressure considering what happened last year. For the UB Mingoes men's soccer, I guess the simple expression would be 'clarify the win.' We're a programme of student athletes and the first win for us is that our athletes are students first and performing at their highest.
"One of the things I was most proud of is that the team had a very strong GPA, in fact, one of our athletes was named the student of the year in terms of overall GPA. We also graduated a young man with a 3.0 average," he said, "Secondly, we did something historic but it puts targets on our back, We have done something historic but that puts a target on our backs. We have won at the B level and we also won the men's premier division, going undefeated. What happened last year was historic but what happens this year will be written as a part of history in the making."
The team continues to add some of the top talents in the country.
"We have had three players come in from Grand Bahamas and another five here from New Providence," he said, "Last year was good, but we have to keep getting better until we reach our best. We have players that have played with the national team so they are some of the best this country has to offer and we are making soccer a success for the university and its brand."
The team began its season last month on the road with games against Penn State Altoona in Altoona, Pennsylvania and Mount Aloysius College in Cresson, Pennsylvania as a part of the two-match opening tour.
Julio Jemison serves as team captain and is also the senior men's national team goalkeeper in both beach and on the grass.
"My first goal is to repeat our performance but to do that we have to be very focused. We know team's don't need to win the league to feel successful a lot of their goal is to," he said, "Our second goal is improving our away performance when we play these teams in the United States."
The Mingoes men's basketball team reached the New Providence Basketball Association playoffs last season and head coach Bacchus Rolle said anything less than a championship will be seen as a shortcoming in his locker room.
"Our goal this year? Win it all," he said, "Each year we have been progressing, winning playoff games and really if we're not going to the championship or going to a national title the year would be considered the loss. In addition to what we do here locally, overseas we want to remain competitive in international play."
The stability of a strong returning group of upperclassmen has Rolle optimistic on the promise of the upcoming season.
"This team is different even though we come back with our captain Ramon Dames, shooting guard Justin Smith and electrifying scorer Kemsey Sylvestre. We added forward Tyrone Sands, Travaughn Nicholls and to solidify the inside we added 6'6" forward Antwan Bevans," he said, "We need solid scoring on the inside. Most of our scoring has been on the perimeter but we need inside scoring that adds a different component in the offense we want to run. We will also see an improvement in our defence. The guys have bought into the system, the majority of the team has been here a few years so they know what is expected of them at this point."
The 2018 recruiting class looks to solidify a talented core of returning players, led by team captain Ramon Dames.
"My top goal is to win the championship, but each day I just want to be stronger than I was the day before," Dames said, "I just want to be able to carry this team to a final and make history. Just to be a Mingo is an honour and I take great pride in this because I'm one of the first to do it. That's why winning is so important."
The Mingoes track and field team is led by decathlon record holder Ken Mullings.
Mullings stellar season last year included breaking the Bahamas men's heptathlon national indoor record in February in the 2018 Fred Wilt Invitational in the Lambert Fieldhouse at Purdue University and winning gold in the decathlon at the Penn Relays.
UB hosted "Ken Mullings Day" in his honour to commemorate the feat.
At Penn, Mullings posted a total score of 6,930 points, 491 points shy of the national outdoor record.
"I'm not just trying to make more senior teams or get physically stronger and faster but with the decathlon being so grueling with 10 events, I really learned that you have to be mentally prepared. I love the event so I try not to let the pressure weigh on me I just want to attack to continue to go out there and to get better," he said, "I love to compete in this UB uniform. I love to go out there and show the rest of the world that we can do this at home."
Coach Ednal Rolle also returns a talented group of lowerclassmen, in addition to three members of senior national teams.
"We have done well in a short period of time with record holders, persons that have traveled internationally and won so we just want to continue with the same trend we have been set," he said, "We added athletes on the throwing side, but not any track athletes because we wanted to give the ones that are here more opportunity. Because we are fairly new we have a lot of freshmen and sophomores so we can build upon this early success."
Judo is one of the newest disciplines added to the Mingoes portfolio, and head coach D'Arcy Rahming Jr has a roster of six athletes, several of whom are in preparation for the Judo Junior World Championships in October.
"Our goals are to get everyone used to the university environment, which is different from a club level environment. A lot of the national team members live and train and attend UB so it's a natural fit," he said, "They are training right now for the World Junior Championships. Many of the UB team will be competing at the tournament and we are very proud of them. These guys are training at a very high level and they are the best we have ever trained in the country."
Desmondo Bootle is one of those team members looking to make history this fall when the Bahamas hosts the top fighters from around the world.
"My first goal this year, I would like to medal at the upcoming world championships," he said, "I am confident that I can get my goals done with my coaching staff, trust my coaches and the game plan and once I am able to do that I can accomplish those feats."
Women's volleyball continues its progression and head coach Renaldo Knowles said that despite recruiting setbacks, the programme has shown signs of improvement.
"The goal is to keep progressing the way we have been the last few years and to see where that takes us this season. The teams need to improve in a few areas, aggression, technique, skill, just being more mature and knowing what to do in certain situations. We have come a long way and we have been doing these things and we have seen the progress," he said, "It is difficult to recruit new talent because there is no feeder system for volleyball, so we have either go into the high schools or go into the night leagues and find people who haven't been to school yet or we have to find people we have to teach volleyball rather than fine-tune the skills they have."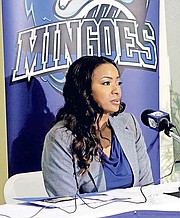 Athletic Director, Kim Rolle said as the programmes continue to succeed both on the international and local level, more student-athletes will continue to see UB as a viable option.
"If you said that maybe 5 years ago we would have been fourth, fifth or sixth choice but success draws attention. The reality of it is people are not concerned about the process to winning, they just want you to win, so recruiting is a part of that and one of my goals is to get a bigger and bigger budget for recruiting," she said, "Right now we tap in New Providence and a few Family Islands but we have to get to athletes in all of the Family Islands. Think about the number of athletes that leave to attend school abroad, if we win the recruiting right here it would be enough to sustain strong athletic programmes for years to come. Recruiting goes hand in hand with retention. We are getting the athletes to come but now they are staying and that is how you really get to develop and build a programme."