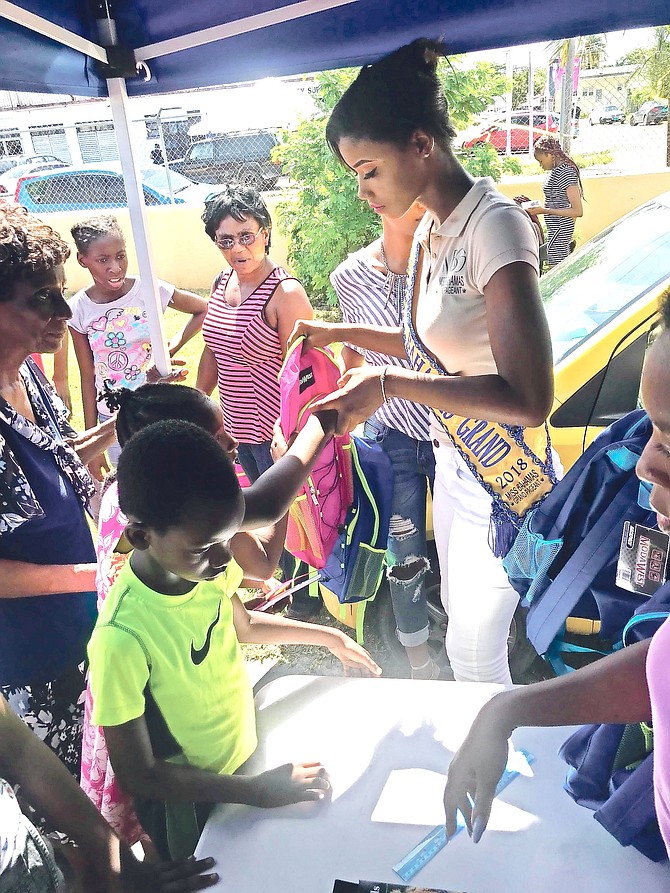 With memories of growing up in less financially fortunate circumstances still strong, Miss Bahamas Grand Dannise Bain is determined to ease the burden of the next generation during this back-to-school season.
The beauty queen, who hopes to start and sustain a successful charitable organisation, recently hosted "Back To School With The Queen", a free event for all students in the Englerston community. Kids were treated to free hair cuts and braiding, live music, a play area, a backpack giveaway, goodie bags, face painting and other prizes and surprises.
A hard-working and self-motivated young woman, Dannise said charitable work is close to her heart. And her motto is, "while on this roller coaster called life, ride optimistically."
"The best advice I can give to anyone is to put God first and foremost, excel in school, don't allow your current reality to determine how far you go, drop fear and pick your up goals," she told the students starting a new school year this week.
She remembers back-to-school events in her neighbourhood always being an exciting occasion when she was growing up.
"I always appreciated the items I got because many times my family wasn't able to afford all the supplies I needed for school. And because there are many persons in my community that can relate to my past circumstances, I made the decision to put together an event such as this. I was also motivated by my mother, the late Ivy Dawkins. Although we never had much, the little that we did have she would always share and help others. I try to mirror my mother as much as possible, because she was a beautiful person," she said.
Dannise believes one of the reasons children may not to do well in school is because they lack the necessary supplies they need throughout the term. Her hope is to change this one step at a time.
"I'm always reminded by my sister, a story of when she was in primary school...she had to erase the notes she already learned to make room for new notes. This was all because our parents weren't able to afford new Sir Milo Butler books. This is sad but true. It is not easy for parents to get six or seven kids ready for school, so this initiative is beneficial to the kids, the parents and also the teachers who are responsible for teaching the students," she said.
Dannise said her first event to assist families facing similar challenges was a complete success.
"I was proud of myself because this event was a lot of hard work, but in the end it all paid off because I was constantly reminded by those in my community how proud they are of me. Many kids would come up to me and say they admire me and this makes me feel very happy inside. I honestly didn't expect for it to turn out that well, but of course it exceeded my expectations," she said.
Dannise acknowledged the contribution of organisations such as The Little Miss and Junior Regency Pageants, Miss Bahamas Teenager, MakeOfour Beauty Salon and Spa, Planet Gadget, G & M Appliances; sponsors Navashion Styling and Designing Agency, ImPac Waste, Hon Glenys Hanna Martin, Kristy Capron, Antoine V Duncombe, and Vasco and Yamel Marshall, as well as her pageant sisters Jacoya McPhee and Sharnae Fernander.
"I am thankful for their generous contributions. Without them none of this would have been possible. This event was successful because although we were not able to facilitate the entire Bahamas, we were able to supply over 100 families in need. Families in need walked away with school bags, books, pencils, pencil, crayons, sharpeners, glue, geometry sets, rulers and just about everything a student would need for the new school year," she said.