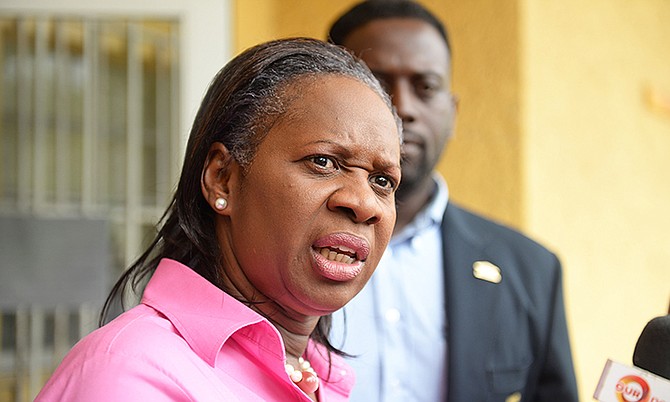 By MORGAN ADDERLEY
Tribune Staff Reporter
madderley@tribunemedia.net 
DESPITE the fact that a significant number of new teachers are still awaiting confirmation, three days into the new school year the ongoing teacher shortage continues to be an issue affecting classrooms nationwide, Bahamas Union of Teachers President Belinda Wilson said yesterday. 
In an interview with The Tribune, Mrs Wilson called for the Ministry of Education to resolve the delay and to start the vetting process for new teachers earlier. 
The BUT president also responded to reports that there is a shortage of teachers at the Eva Hilton Primary School. Mrs Wilson said Eva Hilton is far from the only school with this issue, as those affected range from Arthurs Town High School in Cat Island to A F Adderley Jr High School in New Providence. 
"Generally, there are teachers who have not been placed as yet," Mrs Wilson said. "I'm working on that right now, I'm getting calls from Family Islands and from schools in New Providence. So it's not just limited to Eva Hilton. 
"There are new teachers who have been to the orientation…they are still awaiting their appointment letters and where they're going to be assigned." 
The orientation exercise for newly appointed teachers was held on August 22. 
When asked what is causing the delay, Mrs Wilson said the answer "depends on who you ask at the ministry." 
"Because there are different reasons being given," she added. "But this isn't anything new. "Every year it's the same problem. We are of the view that if you know who is coming out of the University of the Bahamas – we would have recommended to the ministry over and over that if you have a cohort of teachers that are coming out (of UB) in May, then from December you should have that listing." 
Mrs Wilson noted these students' last semester would be the following January-May. She estimated 99 percent would successfully complete the term. 
"So we are of the view that from December the Ministry of Education should have a listing of all of the teachers that are prospective graduates of (UB). They should have the subject or the discipline that they should be graduating with a degree in. 
"And what they should do is begin the vetting process, and start to collect…all of those documentation they should have prior to now.  
"I'm saying to you, teachers who would have attended the orientation exercise from week before last, some of them have still not been posted to school. It's not limited to Eva Hilton." 
When asked for an estimate of how many teachers are waiting to be assigned, Mrs Wilson said: "There were 207 teachers, new recruits. Up to like a week and a half ago, there are about 85 of them that had letters in their hands.
"Since that time, there would have been probably about 10 or 15 that would have communicated with me to say, 'yes I got my school, I would have got my letter," I got the geographical posting allowance,' which is funds they should get for their airfare, their freight, to turn on their utilities.
"The Ministry and the Department of Education must do a better job of their recruitment and the exercise they use in between recruitment to get teachers in school in a timely manner."
Giving examples of schools affected by the shortage, Mrs Wilson said these include E P Roberts, A F Adderley, and the Arthurs Town High School in Cat Island, which is specifically awaiting five teachers.
Mrs Wilson also reported the teachers are not being given any indication as to when they will receive their documents.