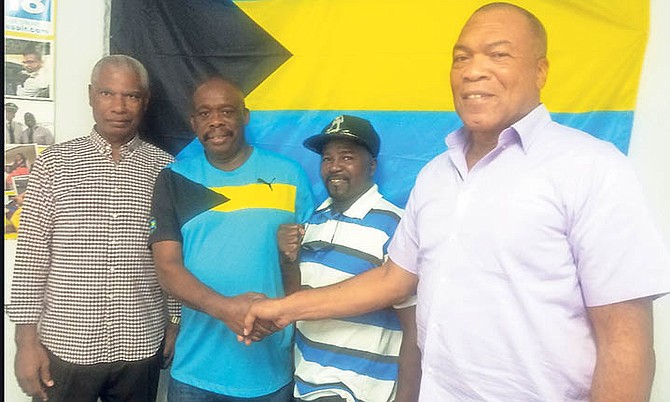 By BRENT STUBBS
Senior Sports Reporter
bstubbs@tribunemedia.net
FOR the second time in four months, Vincent Strachan has been elected as the new president of the Bahamas Amateur Boxing Federation. This time, he did it with the International Boxing Association (AIBA) representative present.
After the elections held in April were null and void because AIBA indicated that they had not given the federation consent, nor did they have a representative present, the elections were recalled and held at the Ministry of Youth, Sports and Culture on Friday.
While the elections were conducted by Roy Colebrook, a vice president of the Bahamas Olympic Committee, AIBA was represented by Steven Jones from the Jamaica Amateur Boxing Federation
Strachan, who won the presidency post 7-3 over Ikenna Johnson during the initial elections held at Thomas A Robinson National Stadium, won for the second time, beating Johnson and Ronn Rodgers.
While he wasn't surprised that the initial elections were null and void, Strachan said he expected the final outcome of the second elections.
He won with five votes, Johnson had two and Rodgers finished with one.
This is not Strachan's first rodeo, having previously served as president from 1994-96, secretary in the late 70s for five years and as vice president on two occasions.
Sherwin Johnson is the first vice president, collecting three votes to beat out Nathaniel Knowles and Dr Kent Bazard, who both had two votes. Pat Strachan won 6-0 over Jeannie Minus for secretary general. Wellington Smith also won 6-0 over Dianne Miller for treasurer and the assistant secretary/treasurer is Anstisa Knowles from Lowe Sound, Andros.
"It went as well as expected without a hitch. It was perfect," said Strachan, who was accompanied by Pat 'the Centreville Assassin' Strachan and Quincy 'Thrill-A-Minute' Pratt at a post election press conference yesterday at the Bahamas Olympic Committee office.
"From the first election and even after, we were preparing to develop our core of officials and coaches. We would also go ahead in preparing the best boxers we have for the Caribbean Games that is in December."
Additionally, Strachan said they have received an invitation from the Trinidad & Tobago Amateur Boxing Association to participate in their national tournament November 8-12.
"So we are basically planning and, at the same time, I am looking to taking some of our local coaches and officials there for a brief course," he said as he charted the way forward.
"Normally they do these things at these events, so it would be good for us to take advantage of this, especially our Family Island persons, who need the development in their skills and broadening their horizons."
According to outgoing president Wellington Miller, Jones had to send in his report to AIBA and Strachan has to make an official report so that the elections can be ratified.
At the same time, Miller said he's surely glad that the elections are now over and done with.
"I think with the people elected, they will do a great job," said Miller, who has vowed to continue to support the new administration."Boxing is still the sport that I love. It has caused me to go around the world and I will never desert it, but I will be assisting from behind the scenes in whatever capacity that they need me to contribute."
Pat Strachan, who had indicated from the completion of the first election that Vincent Strachan was still the best man to run the organisation, said he's happy to be able to work with him again.
"Vincent has led this organisation before and so he has the experience to lead the organisation again," Strachan pointed out. "I am behind him 110 per cent and I hope that the members of the boxing fraternity will now accept the results of the elections and throw their support behind the president.
"It was above board, conducted by the Bahamas Olympic Committee and so we need to throw this 'me mentality' out of the sport. It's not about me or Vincent, but it's about providing an opportunity to help amateur boxing to make a comeback."
Under the new returning president, Strachan said they hope to take boxing to unprecedented heights over the next four years. "We need to become more unselfish in the sport of amateur boxing," he said. "Persons in the sport need to support the president. We live in a small country. There is only so many fighters and for amateur boxing to move forward, we need everyone to get on board."
And Pratt, now sitting on the board for the first time as a director, said he's happy that Strachan has been re-elected because although there are some people who criticised him, they should look into their own closet.
"I ran with Mr Strachan because he's the best man for the job," Pratt pointed out. "There are many reasons why I think he's the best man for the job because he has amateur boxing at heart. He along with former president Wellington Miller are the men responsible for me being here today. These guys put their neck on the line for me and I believe this is the best team to take amateur boxing forward."
As they move forward, Pratt said he hopes that they can create more boxing gyms in the communities throughout the country because it's certainly a way to help save the lives of more of our young men.
"Mr Strachan has the drive for this sport," Pratt stated. "Everybody just needs to let him run the association for the next four years and if they have a problem when he does, they can come back and run in the next elections."
Pratt, a former amateur and professional boxer, said he has been trying to get his Eastside Amateur Boxing Club back up and running and all he's looking forward to is being provided with a building where he can house his club.
Strachan said eventually they hope to influx the inner city with boxing clubs that will be named after some of the prominent amateur boxers and coaches who have made their contributions to the sport, including Leonard 'Boston Blackie' Miller.
One of the things as they move forward, according to Strachan, is to take the sport back to its glory days when they carried full teams of 20 or more competitors to compete and so he's urging the Family Islands to get their boxers ready so that they can continue the legacy that the Bahamas has produced.
"We will be setting our zones where we will have boxers competing for their zones among themselves," he said. "Then we will set up the national amateur boxing championships where the winners will come together and compete.
"It will be almost a week of activities because we will also have our general meeting, our tournament and we will close out with an honourary banquet where we honour boxers, coaches, officials, journalists and persons who supported the sport over the years as fans."