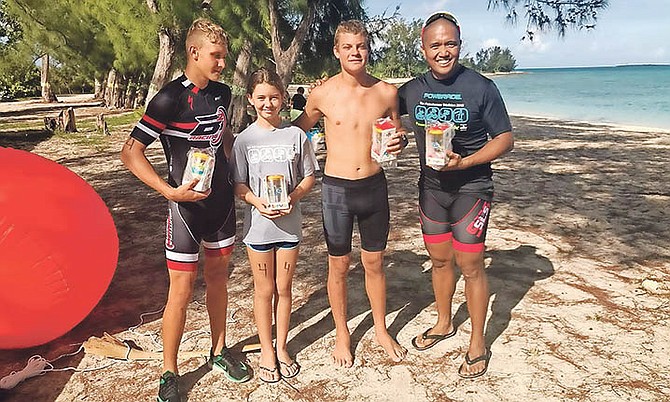 THE Bahamas Triathlon Association has named its 2018 CARIFTA Triathlon and Aquathlon Team that is expected to compete in Tobago September 29-30.
"The 13-member team includes nine boys and four girls, three of the boys being from Spanish Wells.
"Most of the athletes competed on Sunday in a SuperSprint Triathlon as a fundraiser for the travelling team. The race was a great pre-race practice and also a way for the team to compete with and against older triathletes," said a press release.
SuperSprint
Results
Super Sprint Mixed
Team Relay
September 14
Place Team/
Names Leg
Overall Time
1 Jose Magno 30:31
Erin Pritchard 30:49
Basil McGee 24:52
Duran Roberts 24:48
1:51:00
2 Cameron Roach 23:53
Jordan Cheetham 28:39
Anjaleah Knowles 32:22
Jason Cates 28:30
1:53:24
3 Ben Derbyshire 24:42
Enea Gervasini 32:42
Kami Roach 30:43
Jamin Sawyer 26:27
1:54:34
4 Simone Bertoldo 22:35
Zane Munro 31:07
Lynn Pritchard 31:52
Jaci Derbyshire 29:28
1:55:02
5 Kordero St. Cyr 31:06
Matthew Reid 29:39
Taliyah Bowe 36:35
Liz Shaddock 28.47
2:06:07
This CARIFTA will be the second edition of the Triathlon and Aquathlon Championships.
Last year it was held in Barbados and The Bahamas took a four-member team and won a bronze medal in the 11-12 boys Aquathlon (Noah Roach).
The Bahamas looks to improve on that performance this year.
The BTA is also holding another fundraiser on September 16 with the Superhero Challenge. This fun event will consist of participants dressing up as superheroes to compete in a fun triathlon.
Prizes will be awarded for best costumes, not places. "This event is for everyone, whether you have ever competed in a triathlon before or not, it will be fun for the whole family," said event organiser Lori Roach.
The Rotary Club of East Nassau will be on site with their famous hamburger van and there will also be fun activities for the kids as well as a chance to watch or compete with the current CARIFTA team.
All proceeds will fund the travel expenses for the team.
For more information on the event you can go to the BTA's Facebook page or e-mail Lori Roach at goldenwingscharter@gmail.com
2018
CARIFTA
Team
11-12 Girls – Kami Roach, Anjaleah Knowles, Taliyah Bowe, Erin Pritchard
11-12 Boys – Jordan Cheetham, Zane Munro, Matthew Reid, Enea Gervasini
13-15 Boys – Jessie Zywiolek, Jason Cates, Basil McGee
16-19 Boys – Jamin Sawyer, Duran Roberts