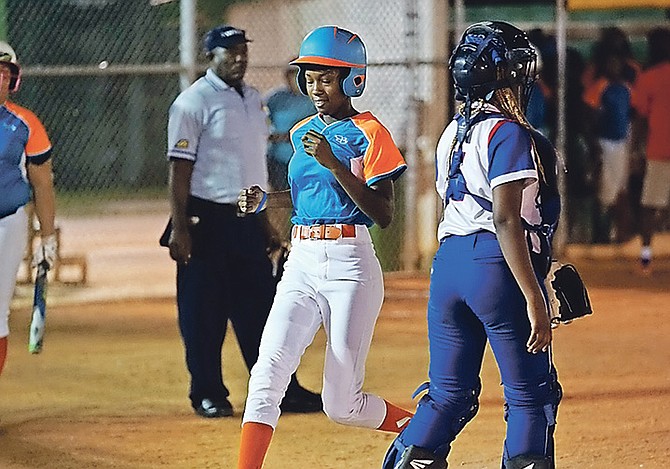 By BRENT STUBBS
Senior Sports Reporter
bstubbs@tribunemedia.net
MANAGER Stephen 'Bishop' Beneby liked the way his youthful Platinum Lady Sharks played last night.
They steamrolled past the Johnson's Lady Truckers 11-4 in six innings to force a fifth and deciding game in their New Providence Softball Association semi-final series.
That clincher is scheduled to be played at 8pm on Thursday night and Beneby feels if they can duplicate their game four effort, they could earn their berth into the best-of-seven championship final that will start on Saturday night against the defending champions Sunshine Auto Wildcats.
"We just have to perform. We have to play," Beneby said after his team's victory in the Banker's Field at the Baillou Hills Sporting Complex.
"We have a young team and my shortstop returned to school and that was the heart and soul of our team. We just needed this game to pick us back up. Once we start the chant in the dugout, we're good to go.
"We stopped this team twice in the regular season and so we don't have no problems with them. We have created our own problems. We just have to go out there and execute."
With their backs against the wall, the Lady Sharks came out clicking on all cylinders. After giving up two runs in the top of the first inning, they answered with three on their own in the bottom. The Lady Truckers managed to roll back to a 3-3 tie with another run in the third.
Platinum Pool, who lost Kenyoka Ingraham to an injury trying to add to the five runs they scored in the fourth, had a chance to stop Johnson's in the fifth. But they only came up with two of the three runs needed. They had to wait until the sixth for the final run for the abbreviated seven-run lead.
In that sixth inning, Bredia Ingraham got on base on a one-walk, moved to second on Kenyoka Ingraham replacement Monet Cartwright's single and scored on two consecutive errors by the Lady Truckers as plate umpire Michael Hanna signalled the end of the game as the attention switches to Thursday night.
"We need to come out and play. We need to hit the ball. We made too many mistakes, too many errors," said Johnson's coach Mario Ford.
"We can't make the playoffs and make these kind of mistakes. We have to hit the ball and play solid defence. We can beat them. We just have to believe in ourselves and do what we have to do."
Shari Albury went 3-for-4 with two runs batted in (RBI) and scored twice to lead the Lady Sharks. Both Dorneshia Woodside and Aniska Lotmore were 1-for-4 with three runs scored, Lotmore added two RBI, Mona Hanna was 1-for-4 with a RBI and Bredia Ferguson had a hit and scored a run. Hanna went the distance for the win on eight hits with six strike outs. Diva Burrows suffered the loss on 10 hits.
The Lady Truckers were led by Theota Ferguson with a 2-for-3 night with two RBI and a run scored, Dawanya Wright went 2-for-3 with two runs scored, Shevette Taylor was 1-for-3 with a run scored and Dawn Johnson was also 1-for-3 with a RBI.