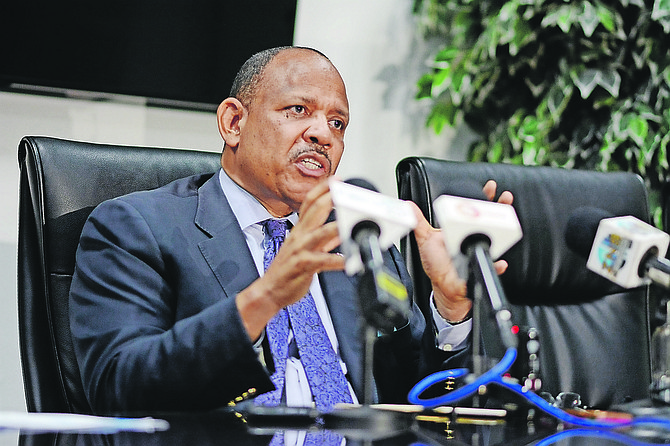 By MORGAN ADDERLEY
Tribune Staff Reporter
madderley@tribunemedia.net
HEALTH Minister Dr Duane Sands has confirmed that the government will be capping the number of subventions allocated to medical students at the University of the West Indies to 25, noting this number is the "historic norm" that has increased "outside of policy" over recent years.
Dr Sands added that UWI was notified of this decision "well in advance" of this current school year yet continued to accept students "with the expectation" that the Bahamian government would pay their tuition.

Noting the challenge this creates for pupils, Dr Sands said the government has requested UWI provide it with the data of all students who have been accepted.
"At that point on a case by case basis, we can make decisions as a government as to whether or not there are students who have been inappropriately inconvenienced and whether some flexibility is applied this year," Dr Sands said.
"But moving forward certainly the number will be 25."
Dr Sands said UWI was notified in writing of the policy in early August.
"And despite that, would have continued to accept students with the expectation that the government of the Bahamas would have paid their tuition, et cetera," he said.
"(This situation) has created a serious challenge for a number of (medical) students. We (are) deeply concerned about the aggravation that they and their families have had to go through, in large part because of the university's…less than efficient management of this admission process."
The Health Minister noted all scholarships fall under the remit of the Ministry of Education. However, he said, moving forward there will be more collaboration between the two ministries.
When asked if the number of students who will receive the subvention this year has been confirmed, Dr Sands underscored nothing can be finalised without data.
"We have requested the data. We have heard anecdotally about all these students that had been accepted. But we have not received any reports from UWI. And this is despite requesting these reports, repeatedly.
"It is impossible for the people of the Bahamas to write a blank cheque. And so, what if it's 40? What if it's 50? What if it's 60? We don't know. And so, the official position of the government of the Bahamas as of today is, and this is based on direct conversation between the Minister of Education and the Minister of Health, let us find out exactly what has transpired.
"Let's find out who the applicants are, when did they apply, what qualifications they have, what they have been promised by the University.
"And then it would allow us to make a determination as to not only what is the requirement of the government of the Bahamas this year, but when you're talking about the careers of young physicians— it is almost unconscionable to give somebody an undertaking that you're going to support them for medical school knowing that you cannot possibly see them through to their internship and qualification years."
Dr Sands said this requires looking at healthcare and the training of young doctors holistically.
"Bear in mind that the Princess Margaret Hospital internship programme is accredited for a limited number of interns. And we have been exceeding that number each year."
On September 19th, the Ministry of Health confirmed that the number of internship posts available have been reduced to 35 for the academic year 2019-2020.
Dr Sands noted there is currently a "glut" of 361 young doctors who the government is trying to assist.
"What we're trying do is get them to the point to be eligible for independent practice and/or be trained in a specialty," he said.
"And so what we're trying to do, when you're talking about realistic expectations, is to ensure that if we make a commitment to a young Bahamian, then that commitment is real and at the other end that they don't find themselves basically in a no-man's land, basically because of bad planning."