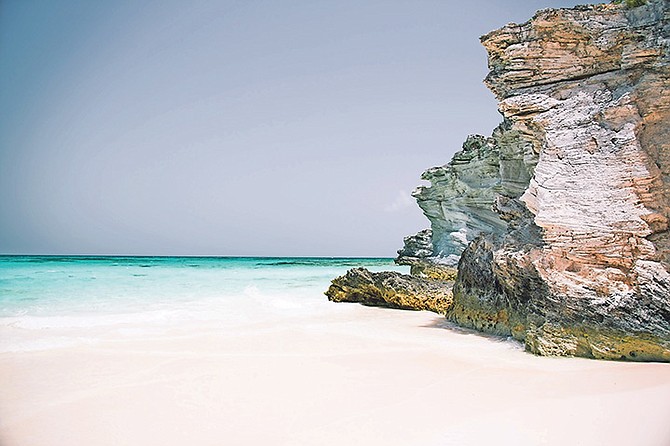 By RICARDO WELLS
Tribune Staff Reporter
rwells@tribunemedia.net
One Eleuthera Foundation (OEF) CEO Shaun Ingraham characterised Disney's proposal for Lighthouse Point as "killing the golden goose" as he defended the non-governmental organisation's proposal for "responsible development".
Mr Ingraham insisted the "high-volume high impact project" would defile the privately-owned 700-acre peninsula located at the southern tip of Eleuthera, adding there was a "commonsense feeling" that private cruise tourism was not a good economic deal for the country.
"Hear us out and resist the urge to assume that allowing a seventh-private cruise port to be built in The Bahamas is a good thing simply because it's Disney," Mr Ingraham said.
"I think we all know, or at least have a commonsense feeling, that the private cruise port model of tourism is not a good economic deal for The Bahamas.
"Their core business model is to capture and keep all revenue from the private port and to limit passengers' ability to spend elsewhere.
"Our core business model is to empower Bahamians not only through employment but also through real ownership interests and opportunities for growth and advancement."
The OEF statement comes as Disney Cruise Line president Jeff Vahle stressed the mega-operator's plan will only develop 20 percent of the property, with 270 acres set aside for conservation and preservation.
In an op-ed for The Tribune, Mr Vahle said Disney's plan would create up to 150 permanent jobs for Bahamians, adding guests were expected in port three to five days a week year-round.
In a press release over the weekend, the OEF noted the organisation's longstanding push to improve the economic viability of Eleuthera has been mischaracterised by the press.
It further claimed recent media reports have created the perception it is exclusively working to block Disney Cruise Line's acquisition of Lighthouse Point, calling such statements "contrary" to its true purpose.
Mr. Ingraham said: "If you read the papers lately, where we're simply lumped in with 'the environmental groups', you are liable to get the incorrect impression One Eleuthera simply wants to protect the area from Disney and call it a day.
"I cannot state strongly enough that we are not attempting in any way to stifle economic growth. On the contrary, our plan for responsible development around Lighthouse Point and the creation of 190 full-time jobs leverages the area's unique beauty because it is the golden goose.
"It makes no sense to defile the area with a high-volume high impact project; that would be killing the golden goose.
"Protecting Lighthouse Point happens to be the right thing to do."
Mr Ingraham insisted the organisation was "unequivocally formed" in view of creating jobs and an economy to support them.
"We recognise Eleuthera has a real and tangible opportunity to build an economy based on our unique and rich cultural and heritage assets, and we have a proven track record of substantial financial investment and job creation," he said.
"One of our core initiatives, the Centre for Training and Innovation (CTI), is aimed at better preparing our youth for the job market. We did not simply ignore or overlook the fact that in 2015 roughly 70 per cent of our high school graduates in Eleuthera failed to meet the requirements to graduate with a diploma.
"We rolled up our sleeves and did something about it.
"Today, CTI offers professional development courses and certificates in areas of business, construction and hospitality.
"We are currently developing additional courses. It's not good enough to create menial jobs for our youth with little opportunity for growth and advancement. We're not doing anyone any favours trying to develop an economy tailored to untrained workers.
"Instead, we want to create careers and growth opportunities that will break down the cycle of poverty we see far too much of," the release added.
OEF said to date, it has invested nearly 20 million dollars in various job-oriented projects and the fruits of those efforts are apparent throughout the island.
The release noted that the OEF is in the process of setting up a development fund to be made available to local entrepreneurs.
"We've also incubated a credit union to assist in small business creation," the statement read. "We want the people of Eleuthera to have the opportunity to take on ownership and entrepreneurial responsibilities within our special economy."