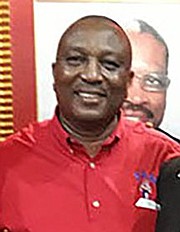 By KHRISNA RUSSELL
Deputy Chief Reporter
krussell@tribunemedia.net
DESPITE its constitutional rule mandating conventions be held every two years, the Free National Movement will not convene a session until mid-2019.
Free National Movement Chairman Carl Culmer confirmed this yesterday, adding the approval to put on the party event is controlled by the Central Council.
According to the party's constitution a convention "shall be held at least once in every two years at such time and place as the Central Council shall appoint".
The last convention was in July 2016.
Asked if there was any particular reason why the party was waiting until 2019, in contravention of its constitution, Mr Culmer said: "Where are we not adhering to it? You say we aren't adhering, I disagree with you.
"But the council has the ultimate power outside the convention and they can say whether we have a convention or not and give a reason to the council why or why not or why bring it forth.
"The council felt that next year would be a better year."
At such time, he said all posts from the leader to the chaplain will be up for challenge, adding: "The FNM don't hide nothing, everything is out in the open. When we have a convention every position that supposed to be voted on will be available."
At the end of the FNM's three-day convention in July 2016, then-Opposition leader now Prime Minister Dr Hubert Minnis survived the second attempt in two years to thwart his leadership.
He emerged successful after former MP Loretta Butler-Turner and Dr Duane Sands withdrew from the leadership race early ahead of the ballot count, citing failures in the delegate selection process and other perceived slights.
Dr Minnis delivered a sometimes self-deprecating speech in which he said he has offered significant concessions to Mrs Butler-Turner and Dr Sands.
"Tonight we offer the olive branch once again to our sister Loretta Butler Tuner, who I'm certain will be our candidate in Long Island with my full support," Dr Minnis said at the time.
"We have undergone a lot over the last few years," he added. "Our internal politics have been made bare for all the world to see and it's not been pretty, but through it all we have maintained our integrity and focused on the points that unite us."
Dr Minnis's words to Mrs Butler-Turner drew a fair, if tepid response from the crowd.
Regarding Dr Sands, he said: "My medical colleague and political colleague, we work close together in the hospital and I must say that on many occasions when I ran into surgical difficulties in areas that are outside my domain, Sands was there for me.
Dr Minnis continued: "Each of these worthy leaders are qualified and possess the experience to rescue this nation and to contribute mightily to its future success. It is our hope that they will accept our offer to continue being a valuable part of this leadership team. We have made significant offers to both to demonstrate our commitment to them and we earnestly hope they accept."
In December, less than five months after the convention, Mrs Butler Turner and six other Members of Parliament submitted a letter of no confidence in Dr Minnis, adding they voted to be led by the former Long Island MP.
These attempts proved unsuccessful to keep Dr Minnis from elevation to prime minister of the country in the May 2017 general election.