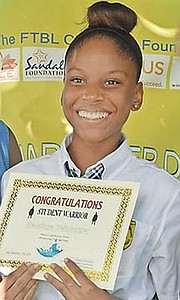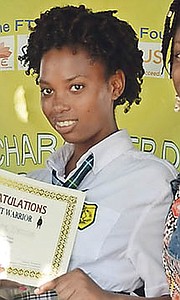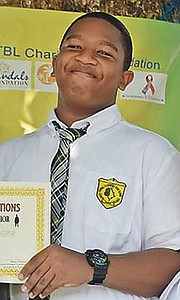 NEARLY 30,000 people have signed onto the petition launched by three Central Eleuthera High School students to "Save Lighthouse Point", according to organisers.
Wadainya Weinberger, Franchesca Hanna and Kristman Moss were presented with Good Citizenship awards to celebrate their activism as part of the annual Character Day celebrations.
Bahamas National Trust executive director Eric Carey said: "We couldn't be prouder of these three amazing teenagers. They are passionate and knowledgeable and are using their influence to affect real change, which is what we want to see all the youth of this country do."
Lighthouse Point, a privately owned 700-acre peninsula comprising the southern tip of Eleuthera, has remained in the public spotlight for much of the past three months, with conservation groups launching a massive preservation campaign for the property.
Disney Cruise Lines has proposed to develop a destination at the site.
Since joining the campaign for a more sustainable development model, the teenagers from James Cistern, Hatchet Bay and Palmetto Point, respectively, were said to have successfully encouraged thousands of Bahamians to sign the online petition to protect their island's sacred space.
"Lighthouse Beach is beautiful and picturesque, and we believe it is important to speak out if we want to save it," said 16-year-old Franchesca.
The students first visited the famed Lighthouse Point along with their classmates from the Central Eleuthera High School, and were featured as part of a video to raise awareness about the cause.
"Because of their advocacy," read a recent campaign statement, "an additional ten thousand persons have added their names to the petition taking the figure to more than twenty-nine thousand signatures. Now, their efforts have been recognised by the very community they are working to defend."
It continued: "The trio was recently presented with awards to celebrate their activism, becoming recipients of the Good Citizenship Award as part of the annual Character Day celebrations. The event, a collaborative effort between various NGO's and sponsorship partners, honours young men and women who prove, through their actions, that they are prepared to impact the way their society functions."