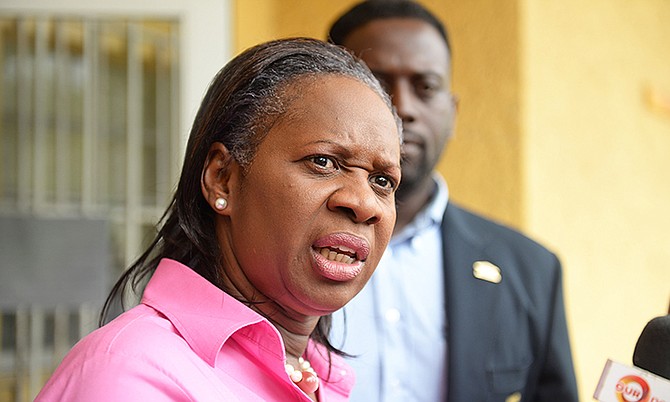 By AVA TURNQUEST
Tribune Chief Reporter
aturnquest@tribunemedia.net
BELINDA Wilson's membership to the Bahamas Union of Teachers has been suspended for two months, effectively stripping her of the top post.

This marks Mrs Wilson's sixth suspension from her role as president, according to union officials, but the first time her membership to the union has been put on hold.
The outcome of yesterday's meeting of the executive committee was confirmed by Secretary General John Musgrove, whose membership was also suspended with Treasurer Lorraine Knowles and trustee Mizpah Pintard-Munroe.
Mr Musgrove said they were all suspended for breach of the 2017 Supreme Court order that saw Mrs Wilson, Mrs Knowles, and Mrs Pintard-Munroe reinstated as candidates on nomination ballots before the union's elections in April that year.
The three women took the union and its executive committee to court over its decision to deny them the candidacy in elections slated for June 9, 2016.
They also appealed the court for an order to be paid monies withheld by the union during their suspension, along with outstanding half pay. Benefits requested were inclusive of "loss salaries, stipend, and other emoluments".
However, in his order dated March 9, 2017, Justice Ian Winder granted a "very limited declaration" and "refused all other reliefs".
Mrs Wilson was returned as president following a landslide victory over her chief opponent Zane Lightbourne on April 7.
Copies of requisition forms obtained by The Tribune purport to show Mrs Wilson authorized cheque payments for a total $105,250 to herself ($50,000), Ms Knowles ($50,000), and Ms Munroe ($5,250) on July 12, 2017. The form is signed by Mrs Wilson, Ms Knowles, and Ms Munroe, but there were no signatures from Mr Musgrove, Vice President Joan Knowles-Turnquest, or Trustee Vernencha Simmons.
Another requisition form purports to show Ms Knowles requested a cheque for $63,726.09 to be paid to Mrs Wilson on July 4 for "back pay". The form shows handwritten calculations for 15 months of suspension, vacation, and annual increases.
Another form dated July 4 shows Mrs Wilson requested a cheque for $60,774.18 to be paid to Ms Knowles with similar handwritten calculations.
An August 2017 document instructed a transfer of funds from the BUT's account to Ms Knowles ($32,418.80) and Ms Munroe ($1,800), and was signed by Ms Knowles on August 10, Mrs Wilson and Mr Musgrove on August 11.
Yesterday, Mr Musgrove said he did not intend to appeal his suspension. The Tribune reached out to Mrs Wilson but did not receive a response up to press time. 
According to Mr Musgrove, Joan Knowles-Turnquest will serve as acting President, with acting Secretary General Tiffany Delancy-Laing, acting Treasurer Charles Adderley.
Vernencha Simmons will continue to serve as trustee.
Last night, the union issued a letter confirming the suspensions. Mrs Wilson and Mr Musgrove's suspension will run from October 1 to December 1; Ms Knowles and Ms Munroe from September 26 to November 26.