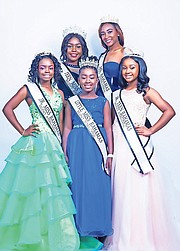 Five Bahamian beauty queens are preparing to make their mark on the international stage this Summer when they head to Las Vegas for the Regency International Pageant.
They hope to follow in the footsteps of Ty'sha Johnson, Little Miss Bahamas 2018, who last year brought home the international pageant title. The Regency Bahamas Pageant organisation commended the reigning Little Miss Regency International and hopes their current crop of beauties will find similar success in Nevada.
Members of the public can get a closer look at this year's titleholders during a special sashing ceremony tonight at Breezes, starting at 7pm.
Amongst those being "sashed" are Leola Williams, who will represent the Bahamas in the 'Ms' division, which is for women that are either widowed, divorced, have children, or are 29 and older and have never married. This division is for ages of 18 to 44.
Paige Rahming, who holds the title of Teen Regency Bahamas 2018/19, will be competing in the 'Teen' division, which is for girls between the ages of 16 and 18. Meanwhile, D'Mia Darville, Miss Junior Teen, will take part in the division for pre-teens between the ages of 13 to 15.
Sadé Francis is a former Little Miss Regency Bahamas and had the opportunity to compete in the Little Miss Regency International Pageant in 2017. There, she placed as the second runner-up. She will now assume the title of Junior Miss Regency Bahamas 2019/20 and will yet again represent her country at the international pageant in the 'Junior Miss' division, for girls between 11 and 12 years old.
Bernae Hart, the Little Miss Regency Bahamas 2019/20, will compete in the 'Little Miss' division, which is for eight to 10-year-olds.
All of the titleholders are currently doing volunteer work that includes assisting at walkathons and soup kitchens, beach clean-ups and other events of a similar nature.
So far, they have enjoyed volunteering at the Freeport Veterinarian Clinic, organised a coin drive to raise money for the Children's Emergency Hostel, held a toy drive for to benefit the Ranfurly Home For Children and the children's ward at PMH, and participated by Empty Bowls and Paradise Pilates.
For the past seven months, they have been preparing for the upcoming international competition by actively improving in the areas of public speaking, stage presence, pageant walks and judges interview techniques.
The titleholders hope to continue to be positive youth ambassadors for the Bahamas.
Tickets for tonight's sashing event are $35.