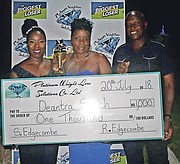 By ALESHA CADET
Tribune Features Reporter
acadet@tribunemedia.net
The Biggest Loser Challenge is back for its sixth annual edition, and for the second year in a row it's bringing with it the new Ketolicious Challenge.
Platinum Weight Loss Solutions is once again presenting its popular six-week competition to get its participants slim, trim and healthy.
Owned by the husband and wife team of Reginald and Santoya Edgecombe, Platinum Weight Loss Solutions has made it its mission to battle against obesity in the Bahamas, whether by hosting fitness events or by distributing their brand of weight loss products.
Biggest Loser Challenge participants are given before and after body assessments, which includes being weighed, measured and photographed, as well as a before and after fitness assessments.
The focus is not just on weight loss – which is only 25 percent of an overall score – it also includes three additional categories: fat loss, inches and fitness. The improved difference in a participant's results is used to determine their final score.
The 2019 instalment of the Biggest Loser Challenge, which includes the Ketolicious Challenge, will begin on May 6 and run through June 17. The sign-up window for the competition is April 26 - May 3.
Santoya said this year they hope to not limit the "Biggest Loser" challengers to just three workout sessions, but instead the team would like to add the option for a gym membership.
"This would allow them more flexibility and improved results. In the past, we had partnered with Doctors Hospital's fitness centre, however, that option is no longer available. With this in mind, we have reached out to several fitness facilities around the island in the hopes they would be willing to accommodate us with this much needed request," she told Tribune Weekend.
Last year's challenge, Santoya said, had 35 contenders. It was also when the first time they incorporated a keto diet and intermittent fasting.
The challenge was dubbed the "Ketolicious Fasted Life Biggest Loser Challenge". Each participant was given a meal plan; they joined a support group and were required to show daily pictures of their ketogenic meals. They were all challenged to send in weekly evidence of their state of ketosis, using the provided ketosis testing strips. Additionally, there were personal trainers who worked out with the challengers three days each week.
A ketogenic diet, or keto diet for short, is a low-carb, high-fat diet that offers many health benefits. Ketogenic diets may even have benefits that help with diabetes, cancer, epilepsy and Alzheimer's disease.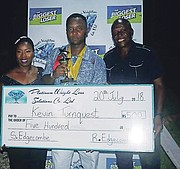 "By incorporating keto and intermittent fasting, last year's challengers experienced an unprecedented amount of success, especially with regards to the inch loss category. Our winner lost a whopping 25.5 inches. For this reason, we plan on continuing the exact same trend this year," said Santoya.
In addition to offering in within the challenge, she said Platinum Weight Loss Solutions has provided keto programmes to its customers for the past two years. And with the keto diet trend gaining so much popularity in recent months, they are hoping to have this year's challenge attract even more participants and beat the record of 50 participants established in 2017.
Last year's winner was Deantra Smith, who lost 26 pounds and 25.5 inches, earning her the title "Biggest Loser" and $1,000.
Kevin Turnquest, last year's second place winner, said: "I must say, one of the main things I really loved about participating in the 'Ketolicious Fasted Life Biggest Loser Challenge' was the fact that there was a support group that provided tons of constant motivation for me. Being accountable to the group kept us most of us on track. Also, I've participated in other types of challenges and boot camps in the past, but I never experienced this same opportunity for support with any of those."
Apart from looking and feeling better about himself after losing 28 pounds and 19 inches, he said he was also able to learn about a new eating lifestyle that he will continue to follow.
"When I fell off the wagon during the holidays, I knew exactly what I needed to do to get quickly back in shape and on track," said Kevin.
For more information on this year's Biggest Loser Challenge, contact Platinum Weight Loss Solutions at 676-5121.