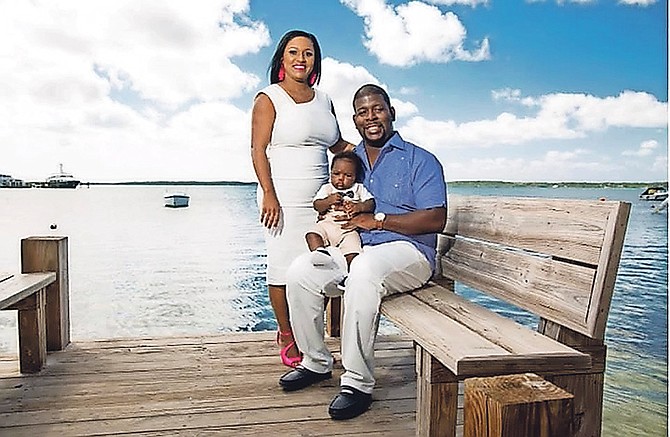 By CARA HUNT
Tribune Features Writer
cbrennen@tribunemedia.net
When Tishka Moss had her first child, Gevon Jr, something happened that she never expected. Instead of feeling pure joy at having delivered a healthy baby boy, she also experienced some negative feelings; feelings of stress and being completely overwhelmed.
"By all standards I had the ideal situation – a doting husband, a very strong support system of family and friends and all the latest gizmos and gadgets. While I gladly welcomed gifts for my son, there were days where I wished someone would do something for me, not the baby," she told Tribune Woman
Going through this unexpected situation has inspired Tishka to launch a new online boutique that is designed to cater to new moms who are struggling in similar ways that she did.
"When I had my son, the struggle was very real. I had to have a C-section and I could not move for two weeks. Because my home has stairs I had to move in with my mom for the first two weeks. After I went back home it was so rough, and bless my husband's heart, he did everything that he could, but it was rough just adjusting to a newborn while at the same time recovering from my C-section," she said.
"I remember telling my friends who had kids how sorry I was for not being there more, because I had no idea how bad it was. I remember people would want to come over and see the baby and I wanted them to come over, but I was exhausted and my house was a mess and I didn't want anyone seeing it like that. But honestly, some days I could only get my self dressed, not clean the house."
One of the best things she received during that time was a gift certificate for a housekeeper for a day.
"That really got me thinking about some of the other things that I would have loved to have been gifted to help me and I decided to share those ideas with other new moms. That's how I got the idea for the Fourth Trimester Boutique," said Tishka.
"The fourth trimester consists of the first 12 to 13 weeks post-delivery. It's a time when the new mother needs as much TLC and support as possible as her body recovers from pregnancy and childbirth and she adjusts to her new addition.
"However, all too often, mom gets unintentionally overlooked by well-meaning relatives and friends that are enthralled with the bundle of joy they waited so long to meet," she said.
"When you are pregnant it is all about you, you are the centre of attention, but once you have the baby everyone is all into the baby."
Tishka said the Fourth Trimester Boutique is dedicated solely to new mothers after they have given birth.
"It's a virtual marketplace and I have partnered with between 16 to 20 vendors who provide services that are designed to help postpartum moms. So for example, you can gift mom with house cleaning services or spa services such as massages, facials, and manicures and pedicures, and even lessons such as infant CPR. And all of these services are conveniently available on the website to help with your choice," she explained.
Some of the vendors include Taylor Made Treats, The Heath Nut, The Whimsical Mummy, Cleaning Wizzards, Early Access Training Centre, and Bahamas Babies and Bellies.
The website for the online marketplace, www.fourthtrimesterboutique.com, launches tomorrow, just in time for Mother's Day. Tishka said it would also make a great addition to any baby shower registry.