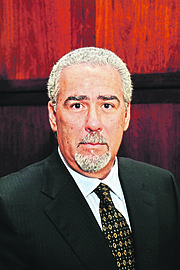 By NEIL HARTNELL
Tribune Business Editor
nhartnell@tribunemedia.net
The Chief Justice is aiming to revamp the Supreme Court Rules, some of which are 40 years old, by April 2020 in a bid to develop "an entirely new and modern foundation" for handling civil and commercial cases.
Brian Moree QC told Tribune Business that "the time is long overdue" for reforming the procedures that govern how Bahamian courts deal with civil cases as part of the wide-ranging and "across the board" judicial system transformation he is embarking upon (see other article on Page 1B).
Besides improving access to justice and the speed at which matters are dealt with, the newly-appointed Chief Justice said the Rules changes will also help to reduce legal costs and cut the long-standing case backlog that continues to undermine court efficiency.
He revealed that the Rules changes presently being considered and worked on by a specially-appointed committee cover everything from greater case management powers for judges to cross-border procedures, international co-operation and greater use of alternative dispute resolution (ADR) and mediation.
Justice Moree also disclosed that judicial officials are still mulling whether to create specialist courts, such as a family court and commercial court, so that such cases receive focused, dedicated attention that results in swifter resolution. This would bring The Bahamas into line with many other jurisdictions.
Describing the Supreme Court Rules reform "as a major issue of and by themselves", he told this newspaper: "We are working very closely with the Bahamas Bar Association and other stakeholders in this regard.
"I have appointed a committee comprised of judges, the registrar and members of the Bar who will be dealing with this. The timeline, and I have to be careful about this but I don't mind saying it, is we are looking at having those rules finalized by the first week of December this year.
"This is with the view to having widespread training of the Bar and judicial officers in the first quarter of 2020, and then pulling the trigger and bringing the new rules into effect on April 2, 2020."
The Chief Justice said "the updating and modernising of the Supreme Court rules is one component" of the wider effort to transform the Bahamian court system so that it can "more effectively discharge its core functions".
"We are working on rules which were adopted in 1978, with numerous amendments during the past 40 years," Justice Moree added.
"Our current approach is to repeal and replace those rules with an entirely new and modern foundation, which is based on the civil procedure rules adopted in England in 1999 and subsequently by a large number of Commonwealth jurisdictions, including Australia, New Zealand and most of the countries in the Caribbean.
"I regard, and I think it's generally regarded by the Bar, that this process of replacing our Rules and putting in a modern, comprehensive set of new Rules is a very important part of addressing some of the systemic issues we are confronted with."
The Supreme Court's Rules set out the procedures for how most civil and commercial cases are dealt with. Bankruptcies, company winding-ups, certain types of probate and divorce and matrimonial matters are not covered because they are each governed by their own specific rules.
Illustrating the importance of the Rules changes, Justice Moree explained: "They are really the foundation for the commencement, conduct and ultimate disposition of all cases which fall under them.
"Therefore, bearing in mind they were passed in 1978, some 41 years ago, although certain amendments have been made the fact of the matter is the time is now overdue for us to adopt new Rules which are more efficient, incorporate procedural best practice and are designed specifically to make the whole course of litigation less complicated and generally more accessible to the public.
"I hope that this is going to provide the means to achieve a more expeditious and less costly approach to litigation. The Rules are going to change a whole lot of issues."
Identifying specific areas that will be impacted by the reforms, Justice Moree said: "It's going to address more effective and greater case management powers for judges, which is critical because the current trend in courts around the world is for cases to be judge-driven and not lawyer-driven.
"There's an increasing emphasis on judges taking firm and robust control of cases before them to reduce the disposition cycle from beginning to end of the case; how long it takes to dispose of it. These Rules are going to address this area very significantly."
He added that the Rules reforms will also "eliminate or reduce a number of protracted applications which currently have the effect of delaying the conduct of the case".
"We have some of those powers now," Justice Moree added, "but this will provide a more aggressive platform to conduct hearings by teleconference and the like."
Cross-border procedures and international co-operation will also receive attention in the Supreme Court rules reforms. The first area was highlighted last week by the Privy Council case involving the ability of a Bahamian investment fund liquidator to serve proceedings on a party outside The Bahamas.
"Our procedures on that are outdated and do not reflect modern jurisprudence and practice in this area," Justice Moree said of the cross-border issues, noting the global trend towards greater co-operation between the courts of different countries. The cross-border enforcement of judgments will also be included in the changes.
"The procedures for the payment of costs in court cases, which is sometimes a very laborious procedure, that regime is also going to be updated," the Chief Justice added.
"It's also going to provide in a more significant way for the disposition of applications based on the papers that are filed rather than oral hearings. In certain straightforward matters there will be powers for the judge to dispense with it without an oral hearing."
While attorneys and their clients would still be able to challenge any decisions delivered under this procedure, Justice Moree explained: "All of this has to do with reduction of the timeline, taking away delays and doing things more quickly, more efficiently and less costly.
"A lot of these areas directly relate to our ability to clear the backlog in the court system. As we reduce the time cycle to disposition and move cases through the court system more efficiently, using a modern technology platform, featuring new Rules and the full co-operation of the Bar, the more we are able to reduce the backlog."
Justice Moree added that "introducing a more effective and robust system of alternative dispute resolution (ADR), and specifically including mediation in the context of court cases", is another element in the Rules reform strategy to reduce the burden on the court system and make inroads into the backlog of cases.
While The Bahamas now possesses a modern legislative framework to support arbitration and ADR, the Chief Justice said it still "needs to put in the breadth and depth supporting infrastructure" – in the form of a back office administration system and other features – "to make it more attractive to go through arbitration rather than the courts" for both foreign and international investors.
Justice Moree said a properly-functioning arbitration system would reduce the volume of cases heading to court by resolving disputes, especially on the commercial and family side, before they arrive there.
For that reason alone he argued that The Bahamas needed to get "up to date" on ADR by incorporating it into its court procedures, and added: "We need a holistic approach to all these things, and need to provide ADR as a viable, efficient, cost effective alternative that becomes attractive to the market."
The revised Supreme Court Rules will also provide for mediation to occur at several points during civil and commercial case cycles in an attempt to resolve disputes without going all the way to trial.
"Our current Rules in the context of The Bahamas are somewhat outdated," Justice Moree told Tribune Business, "so we are updating them to bring them in line with international practice.
"There are many more areas, but the bottom line is these Rules are not just a technical project for lawyers. These Rules have a direct, practical and meaningful impact on our courts, which allows us to provide better services to the public in the disposition of their cases because we are highly focused on providing a high level of service to them.
"We have to ensure that the system, procedures and support services keep up with the excellent record of our judiciary, so that the overall effect is a modern, efficient service which is providing increased access to the public in delivering the judicial adjudication of matters that come before the courts."