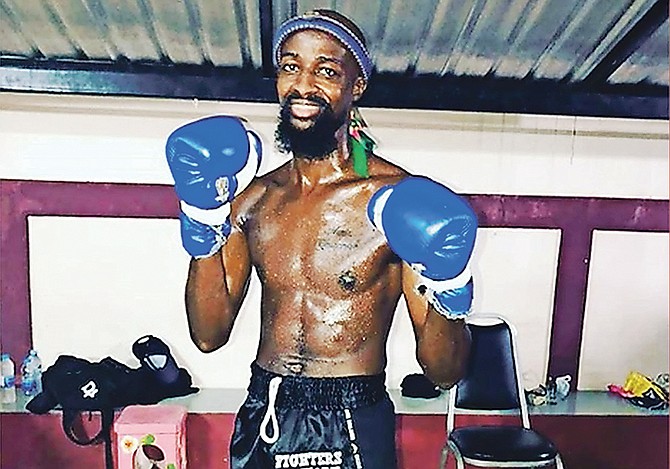 By RENALDO DORSETT
Tribune Sports Reporter
rdorsett@tribunemedia.net
BAHAMIAN mixed martial arts fighter Giovanni Johnson continues to hone his craft and elevate his profile during his second training stint in Thailand.
Johnson now has three wins in professional fights this summer, training out of True 8 Muay Thai Gym in Surat Thani, Thailand.
He previously trained in Thailand in 2017 as an amateur, but has now returned at the professional level and has already displayed his diverse skillset with several knockout wins.
In his most recent fight, Johnson scored a knockout win via head kick. "The first time I came over it was more of a planned trip, it's just that the funds were not readily available and a sponsor of mine funded the entire trip. That was a huge success, six months of training, six months of fighting.
"I had a bit of injuries, but it was not enough to completely stop my training. This trip was something that had to happen based on the success of my previous trip, the same sponsor came through and said go for it, so here I am," Johnson said.
"The gym I currently train at, they sponsored me the first three months so I don't have to worry about gym membership, the cost of training and the cost of housing. I focus on training and fighting."
As he looked to progress to the professional level, Johnson sought training in the birthplace of Muay Thai to further sharpen his skillset.
"This is where the sport of Muay Thai was formed. The best place to learn is from the source. On top of that, there are countless opportunities to fight against top-level opponents. If you stay healthy you can fight every two weeks," he said.
"I'm definitely more accustomed this time around. There have been some improvements in my game, nothing drastic, just more comfort in the ring as well as confidence in the tools that I've sharpened."
To follow his Thailand journey, you can follow him on Instagram @mofiremma242 and his Facebook page @Giovanni "Mofire" Errisson-Johnson MMA Fighter.
Following his training in Thailand, Johnson said he looks forward to gaining notoriety in the United States and fighting under established promotions. Johnson made his successful pro debut as the headliner of BOMAC 4: The Striker's Quest, in August 2018.
Johnson continued his undefeated run at BOMAC events with a second-round knockout of Pedro Cassoma at the 2:44 mark in the opening round.
He won both of his previous appearances at BOMAC events. At BOMAC 1 he defeated TJ Miller via submission and at BOMAC 3 he won by decision over Douglas Wilder.
Johnson took up the sport approximately a decade ago and said he patterned his fighting style after MMA legend Anderson Silva. He would then go on to join Dr Kent Bazard and Empire MMA where he trained under Bazard and Carlos Hechevarria.
"I was introduced to all of this in 2009. It started with taekwondo, then moved into full-contact kickboxing. I was just picking up a hobby at first. It was fun, it allowed me to blow off steam. I've always wanted to learn martial arts. But I never saw myself fighting, I never even thought about it, to me, I was just practicing. I was just staying in shape while having fun," Johnson told the Huffington Post.