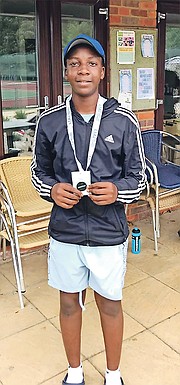 BAHAMIAN Anthony Burrows, playing in the British Junior Circuit, captured another victory over the weekend.
Burrows was competing in the Under-16 East Summer County Tour at the Covingdon and Flaunden Tennis Club Tournament.
The summer county tour is a series of local level grade 4 and grade 5 junior tournaments running throughout the summer competition season.
It is a part of the Lawn Tennis Association, British Tennis.
Burrows was seeded No.1 in the tournament and faced Mervil Bekteshi in his first match. He won comfortably 4-3(3) 4-0. He then faced the 4th seeded William Eckford and won in straight sets 4-2 4-0.
In the finals he faced the No.2 seed Marcus Weekes, winning in another impressive match 4-2 4-2.
Burrows is displaying his skills on international soil and has been very dominant and impressive.
The Bahamas Lawn Tennis Association congratulates Burrows - one of our top Bahamian juniors - on his consistent playing and championship quality performance.
Burrows has put his stamp on the Junior British Tennis Circuit as this is the third win for him.