By ALESHA CADET
Tribune Features Reporter
acadet@tribunemedia.net
As a nature lover and someone who enjoys a healthy lifestyle, Catriona Sands believes that fresh ingredients are the best ingredients, not only to consume in food, but to be applied topically as well.
This way of thinking was also her inspiration for starting her own skincare line, Natural Scrubs by Catriona Sands.
"The skin is the largest organ so we need to treat it with great care," she toldTribune Health. "As I got older, my skin changed, meaning I became allergic to your normal go-to skincare products, and make-up products as well. With skincare products my skin would either become extremely dry, which would cause an itching sensation, that then would cause my skin to become red and blotchy. Other products would add too much moisture, and I didn't need extra moisture. Becoming a 'hyperallergic' individual only made me that more aware of what I fed my body all together. Discovering what works for my skin sparked curiosity to learn more, which led to creating a variety of scrubs that were all 100 percent natural and each worked for something different."
Last January, she moved back home after university and began looking for a job. She applied to a lot of places, but a few months passed and she was still unemployed. So she decided to open her own business and combine it with her exploration of natural skincare.
Catriona produces handmade, organic items such as sugar and sea salt scrubs for the body; lip and feet products, as well as mosquito repellents. The mosquito repellents are all-natural – no chemicals, no alcohol, no parabens, no additives or unnatural preservatives. For this December, she also hopes to launch a line of foot soaks.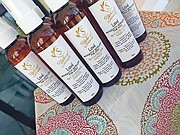 "I came up with body scrubs that can be used on the whole body, as it saves you having to purchase more than one product. If you want to, for example, use the Wake Me Up body scrub as a face scrub or use it as a body scrub on your tummy, hips, thighs or legs. There are foot scrubs which are sea salt based and they are made for the feet because the sea salt grains are more abrasive for the rough skin on the bottom of the feet. The scrubs will remove dead, dry skin, leaving your feet moisturised and soft," said Catriona.
One of her goals is to encourage people to truly love themselves, and love how they look naturally.
"We all look different, and believe it or not, everyone goes through skin issues. I'm aiming to be a wholesale Bahamian natural skincare company, embracing our Bahamian ingredients," said Catriona.
And with each product she creates, she puts a piece of the Bahamas in it. For instance, the sugar used in her sugar-based scrubs comes from locally grown sugar canes, and the coconut oil comes from our coconuts. Her salt-based scrubs use sea salt from Inagua, and the Sweet Pineapple body scrub uses pineapples and honey from Eleuthera.
"When I made a trip to Eleuthera I just saw a vision so rich like nothing before; a chance to bring more life and create opportunity for the whole country. I want to create jobs for those on the Out Islands and provide jobs to those on nearby islands. I have a whole idea with a plan, but everything comes at the right time. I just always remind myself that with prayer and faith anything is possible; just keep working hard," she said,
Catriona's products are for both men and women, although she said certain scents seem to be considered more "masculine" and others more "feminine" by her customers. Surprisingly, she said, men seem to really like her lip scrubs.
For Catriona, it is important that each customer experience is personal.
"When I'm speaking with you I'm learning about you and your skin, which scrub will be best for you or if you need a customised scrub just for you," she said.