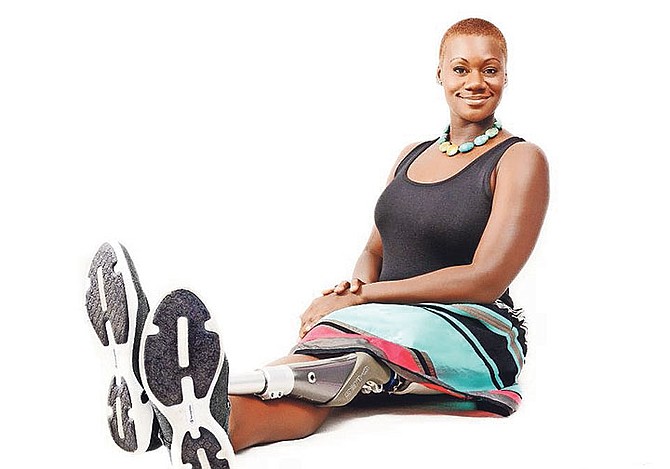 By JEFFARAH GIBSON
Tribune Features Writer
jgibson@tribunemedia.net
Erin Brown's dream of competing in the 2020 Summer Paralympic Games in Tokyo, Japan is so close to becoming a reality that she can already envision carrying the Bahamian flag in an international arena.
The disability advocate and para-triathlete – who still needs additional funding and some qualifications before heading to the Games – was recently invited to train at the US Olympic and Paralympic Training Centre Velodrome in Colorado.
Erin, a bone cancer survivor who lost a leg to the disease, departed for Colorado yesterday to begin intense training at the centre that opens it doors to para-triathletes from around the US with various amputations.
Each year, the US Olympic, and now Paralympic Training Centre, provides opportunities for para-athletes to train in their specific disciplines. After training this year with the Dare2Tri paratriathlon camp, Erin was contacted about applying to participate in the centre's para-triathlon session. She put forth her application and waited for confirmation that she had been selected.
She is the first Bahamian para-triathlete to be selected to train at the centre, and it is an opportunity Erin is fully embracing.
"The disciplines to be covered include swimming, cycling and running, from techniques to transition and rules. I was unable to travel with my bike due to cost, but I was able to have one provided for training use while at the training centre," she told Tribune Woman. "We will be housed and train on-site with other Olympians and Paralympians around the world."
The Paralympic Games will kick off on August 25, leaving Erin with only matter of months to complete training and secure enough resources to compete.
When she first publicly announced her desire to compete in the Games back in August 2017, Erin launched a Go Fund Me campaign to raise $5,000 to assist in getting the right prosthetics to enable her to compete. Over the course of this journey Erin has needed continuous financial backing. She believes it is a worthy cause and that her participation will put the Bahamas on the map.
"I need consistent financial support, access to training facilities and coaches and trainers willing to be adaptable to the specific needs of a para-athlete. Also, being able to don...my country's colours would be increase the chances for me to compete in International Triathlon Union (ITU) sanctioned races – a must to start and compete – and even the United States of America Triathlon USAT sanctioned races which are affiliates."
Shows of support have been "few and far in-between", and mainly from personal investors and groups which made special sacrifices to assist her, but she is grateful for everyone who has helped her on her way.
"This has been the most amazing experience to see the smiles, hear the cheers, pray with individuals and provide them with updates as the journey continues. There are businesses who have stepped up with in-kind services and have become partners in the creation of the Bahamas Paralympic Committee through empowering me in travel, equipment, transportation, nutrition and therapy. Each and every person has kept the fire burning to enlarge our territory through Paralympic development," she said.
While Erin has received support, she said she has also received many "no's" along that way from those who do not grasp the national significance of having Bahamian representation at the Paralympic Games.
"The challenge of how and why investing in one person can change a nation's direction has been the consistent experience that has been a road block over the years and still is today. Too many 'no's' are being served because it is seen as one person's endeavour rather than a nation's," she said.
"Do you know that Grenada was also ratified with one para-athlete and her discipline started with the javelin? There are opportunities during CARIFTA, the Pan Am Games, and other national and Caribbean-centric sporting events where para-athletes would be able to represent the Bahamas. Yet no sponsorship dollars are even being considered because one person dares to risk it all. Worldwide sponsors like Toyota, Samsung and Coca Cola have locked into marketing strategies for a number of years in order to offer optimum support. At a national level we should be able to do the same. Or is that asking for too much?"
Nevertheless, these challenges will not stop her from pushing head with her plan. And knowing that her dream is so close to becoming reality is what keeps her going.
"It is an overwhelming feeling because the closer it gets, the more training and competitions the Bahamas is being seen in again. It is an exciting moment, not only for the Bahamas, but for our disabled community... to know that even home-grown dreams can blossom in the international garden," she said.