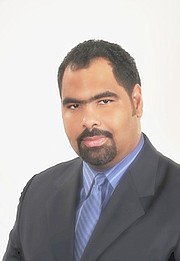 By NEIL HARTNELL
Tribune Business Editor
nhartnell@tribunemedia.net
The government's first-half fiscal deficit is no cause for "great panic" despite being equal to 73.4 percent of the full-year target, a top accountant argued yesterday.
Gowon Bowe, the Bahamas Institute of Chartered Accountants (BICA) president, told Tribune Business that the half-year deficit was "not a great indicator" of the 2018-2019 fiscal year's likely outcome because the majority of the government's revenue is traditionally earned in the final six months.
Pointing out that the fiscal year's third quarter typically adds little if anything to the deficit, Mr Bowe said the government will remain on target to hit its year-end "red ink" goal of $237m or thereabouts if it contains the deficit to around 75-80 percent of the total at end-March 2019.
Still, he said several areas in the government's six-month fiscal "snapshot" required "greater clarification", including the $13m said to have been spent to cover the Grand Lucayan's operational expenses.
Mr Bowe queried whether the "operational expenses" were really losses incurred since the Minnis administration acquired the resort from Hong Kong-based Hutchison Whampoa in early September 2018, with the report indicating that the taxpayer is pumping in funds at a rate of $2m-$2.5m a month.
He added that the government's second-half revenue and spending projections should be robust enough to allow it to indicate where the full-year performance was heading, while questioning whether increased spending was occurring in high-priority areas - such as addressing the "ease of doing" business and regulatory red tape/bottlenecks.
"At least now it is a presentation of where we are at six months," the BICA president said of the fiscal "snapshot". "It gives you an understanding of the government's financial affairs and performance at the end of six months.
"There are a number of areas where we'd like to see greater clarity and additional information. When they say they spend $13m on operating expenses at the Grand Lucayan, regardless of how you classify it, as an investment or otherwise, that suggests that in a period of four to five months you're running at least at a $2m-$2.5m clip in terms of operating expenses."
Mr Bowe said he did "not think it's accurate to say operating expenses", suggesting that the $13m instead referred to operating losses at the Grand Lucayan which the government has been forced to cover while it seeks a purchaser for Grand Bahama's "anchor property".
Questioning whether the wrong language had been used by the report, he said the "operating expenses" would likely exceed the $13m figure referenced if his analysis was correct.
Mr Bowe also called on the Government to present estimates of the likely full-year performance for 2018-2019, arguing that evidence from the first-half combined with its latest revenue and spending forecasts should give it a good idea of how its finances were trending.
"The other side of it is when you run up 75 percent of the deficit in a six-month period, there are cyclical events in our Budget cycle. We know the third quarter is a higher performing quarter," he told Tribune Business.
"You're looking for a clear statement as to where they see it settling at the end of the year. We'd like to know where the outturn is going to be for the full year because, at this point in time, they should have a clear understanding of expenditure.
"That's not cyclical. It's spread throughout the year, and you know what your estimating for revenue in the bumper period of the third quarter. You have six months of VAT at the new rate and should be able to project out for the remaining six months. You should now have an understanding of where other taxes will end up."
The six-month fiscal "snapshot", while drawing heavily on comparisons with the 2017-2018 prior year performance, does not measure how the Government is performing against its Budget forecasts and expectations for this 2018-2019. These comparisons are somewhat meaningless given the increased VAT rate and other tax adjustments unveiled last May.
As a result, it is hard to assess how the Minnis administration is matching up against its own internal projections. This, in turn, makes it impossible to assess the reasons for revenue underperformance, expenditure overshooting and missed deficit targets as they occur, and take corrective action.
"It's critical to know what the next course of action is," Mr Bowe told Tribune Business. "Not understanding what went into Budget projections leaves you flying blind in relation to execution, performance and how successful you've been in achieving what you set out to achieve.
"There needs to be a more concerted effort to expand the veracity of the information presented. There should not be so much information presented that we lose the forest for the trees, but enough information made available to evaluate the performance of the Government and executing on its strategy and goals.
The fiscal year's third quarter is traditionally the Government's top revenue producer because it coincides with the peak winter tourism season and includes Business Licence fee payments, commercial vehicle "licensing month" in March, and the bulk of annual real property tax payments.
As a result, the January-March period in every fiscal year has historically added little to nothing to the annual deficit. Mr Bowe said this trend meant there should be no undue alarm over a half-year fiscal deficit that was equivalent to almost three-quarters of the full-year projection.
"Without having the benefit of their internal information, I wouldn't see a great panic," he told Tribune Business, "as the first quarter is not a quarter you can rely upon as a great or significant determinant.
"Having reached almost 75 percent it's not a great indicator of the full-year target because the third quarter may not add to that. If we come to the end of the third quarter and it's still at 75-80 percent, it certainly indicates we may exceed what was originally projected but not by a significant amount."
Mr Bowe added that it was critical "to understand" if increased recurrent spending was resulting from resources being directed to key priority areas such as e-government and a more efficient approvals process.
Recurrent spending rose 9.3 percent year-over-year during the 2018-2019 first half, from $1.004bn to $1.098bn, which the Government largely attributed to $65m allocated to paying off unfunded arrears.
"Are they sending additional expenditure to areas of high priority to them," he asked, "expending and devoting resources to digitisation, the ease of doing business, government efficiency in approvals and regulation?
"Those are areas we want to see them spending in. We don't want to see continued growth in government; it's expanding initiatives they want to put in place."