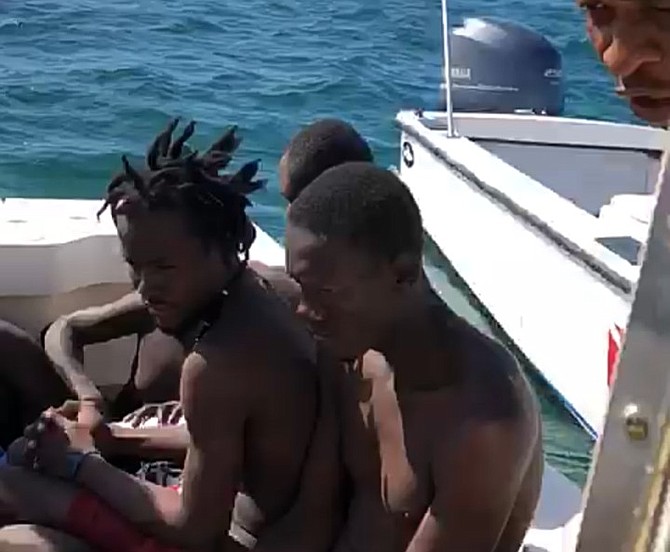 This story has been updated here: Death toll rises to 28
SIXTEEN people are dead and 15 have been rescued after a Haitian refugee boat capsized off Abaco early on Saturday morning.
After the discovery of four bodies in the water near Man O War Cay at the entrance of Marsh Harbour by local residents, Police, Fire and Rescue Services, along with Immigration and Royal Bahamas Defence Force (RBDF) personnel stationed in Abaco, conducted a search near Fowl Cay and Man O War Cay.
 Officials were later joined in the search by an RBDF patrol vessel already in the area, Her Majesty's Bahamian Ship (HMBS) Durward Knowles and a United States Coast Guard helicopter.
A total of 15 Haitian nationals were found on the cay and were taken aboard HMBS Durward Knowles under the command of Lieutenant Commander Omarv Saunders.
They were subsequently transported to the clinic in Marsh Harbour for evaluation, and handed over to Immigration and police officials for further investigation.
A submerged vessel was later spotted by the USCG helicopter on Saturday afternoon.
A dive operation by RBDF divers and a local diver found an additional twelve bodies in the vessel on the seabed in reef-filled waters near Fowl Cay.
Video of the rescue operation and photographs quickly appeared in social media.
Images showed bodies on the front of one craft covered by hastily thrown tarpaulin.
In another a man's body lay on a beach just out of the water as emergency personnel prepared to recover it.
Survivors - mostly just dressed in their underwear - included at least one woman.
Rescue operations are ongoing.