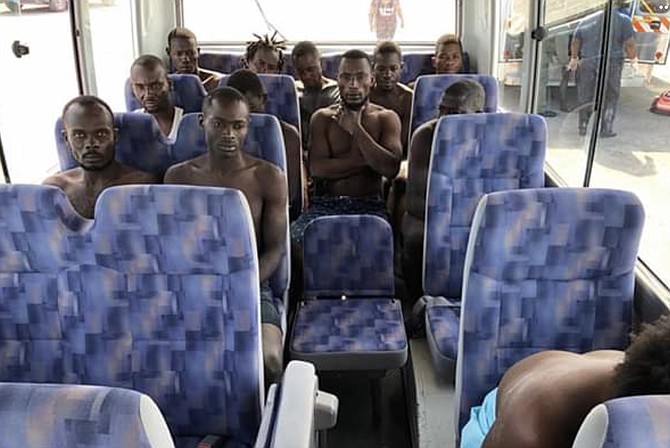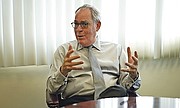 By KHRISNA RUSSELL
Deputy Chief Reporter
krussell@tribunemedia.net
IMMIGRATION Minister Brent Symonette has appealed to migrants contemplating the treacherous journey from Haiti to consider applying for work permits before risking their lives to enter The Bahamas illegally.
In the aftermath of the worst migrant boating tragedy since 2013, the minister offered this as an alternative, but noted that even if non-Bahamians successfully enter the country undocumented they will most likely be apprehended and repatriated. Foreign Affairs Minister Darren Henfield further urged would-be undocumented migrants to "think twice", adding that as a former Royal Bahamas Defence Force official he'd seen this unfortunate kind of situation too many times.
The Cabinet ministers spoke as a pathologist and coroner were sent to Abaco to process the bodies of 27 Haitians who died after the boat they were on hit a reef and sunk Friday night. Eighteen people have been rescued so far, according to officials. Initial numbers from law enforcement had the death toll at 28 with 17 survivors, however these numbers were incorrect, officials said yesterday. 
Mr Henfield also confirmed a request was made yesterday by the Haitian Embassy in New Providence for the bodies to be turned over to them for burial.
Some survivors told rescuers they had been at sea for seven days when all hell broke loose near the Abaco cays on Friday, The Tribune reported on Monday.
The survivors were being interviewed yesterday as officials try to understand the circumstances of their travel here, Mr Symonette told this newspaper.
"I wish they would not contemplate the trip," he told The Tribune yesterday, "putting their lives at risk and we've seen what has regrettably happened in the last couple of days.
"If they had applied for work permits or that type of thing we'd try and process them, but not to put their lives at risk because once they are apprehended then we'll send them back to Haiti in any event."
For his part, Mr Henfield said the journey is just not safe.
He said: "With my background coming from the defence force, I've seen these incidences one too many times and so a part of our effort is to communicate to Haitians those who are thinking about migrating to the Bahamas about some of the dangers because sometimes these trips can go horribly bad. Apart from being possibly apprehended and repatriated, you can actually die as we are witnessing now.
"This is a very dangerous journey to take across the Windward Passage and enter into the Atlantic and begin to move on these vessels that are unsafe," Mr Henfield also said. "There are no life vests, no saving apparatus on them. Most of the people who come on these boats can't swim. So if something goes wrong, as they often do, then we end up with these kinds of unfortunate events and tragic outcomes. So I would hope that people think twice before embarking on these journeys to come to the Bahamas.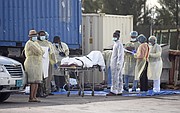 "It's not as safe as it seems."
The migrants' vessel struck a reef well-known to be dangerous and the boat disintegrated into two halves, volunteer rescuers told this newspaper on Sunday. The dead were first spotted by tourists in a 55ft chartered catamaran early on Saturday morning. The tourists saw two floating bodies and sent a mayday signal, according to Troy Albury, head of Bahamas Air Sea Rescue Association on Guana Cay and the first rescuer on the scene.
Mr Albury said more than four hours likely passed before anyone knew what had happened. Rigor mortis had set in by the time he neared Scotland Cay shortly after 9 o'clock that morning, he said.
Of the dead, 23 were reportedly recovered near Fowl Cay where their vessel was shipwrecked six miles off the coast of Marsh Harbour.
On Sunday, the Department of Immigration said 87 people were allegedly on the vessel, according to unconfirmed reports from survivors. However, volunteers told The Tribune multiple survivors told them about 45 people were on board.
Rescue operations on Sunday were hindered by tiger sharks that circled the wreckage and ate human remains.
The incident was the deadliest migrant shipwreck in Bahamian waters since 2013 when at least 30 Haitians perished on an overloaded boat headed for the United States. At the time, 110 people were rescued, including 19 women, according to previous reports.