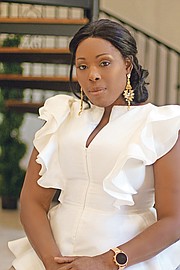 By LEANDRA ROLLE
Spreading the vision for Bahamian beauty throughout the islands and even abroad is the idea behind a local magazine called Beautilicious.
It is the brainchild of the Beautilicious Beauty Supply owner Daphne Tynes Ewing, who wanted to go beyond just selling hair and cosmetic products to showcase local make-up artists, fashion designers, beauty professionals, and of course the latest trends.
Daphne told Tribune Woman she came up with the idea for the magazine after organising a hair show in Freeport.
"While putting together the hair show, we were like, 'Hey, what could we do take this next level?' So after doing the show, a lot of Bahamians wanted to purchase beauty magazines and I usually order magazines for my store to sell and retail them out to customers, but I said why would we even need to buy magazines from away when we have so much talent here in the Bahamas and I figured that we could do our own beauty magazine," she said.
After much planning, the Beautilicious beauty magazine was officially launched in Grand Bahama. But, like most business ventures in its early stages, there were many challenges to be faced. Some obstacles Daphne had to overcome included getting financial support and reaching out to beauty professionals who at first seemed skeptical about selling the magazine in their stores.
But, as Daphne soon realised, these trials were just a part of the journey. Since 2016, Beautilicious Beauty Magazine has sold more than 10,000 copies across the country and is considered to be the first all-Bahamian beauty magazine, she said.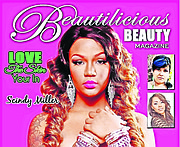 The response to the magazine, Daphne said, has been amazing. In fact, she noted that copies of the magazine have been sent as far as Canada, China and England to Bahamians who live abroad and want to hear about what's happening in the beauty and fashion industry at home.
"There are people around the world who are interested in our culture. At the Bronner Brothers show last year, we took out 1,000 copies of the magazine and we sold out. It was so amazing because people were shocked that the Bahamas even had a magazine. In the next few years, I see it going internationally... it's not what I want it to be yet, but it's getting there," she said.
The magazine does not only focus on hair and skin care, but also touches on women's health and fitness and other topics of interest Daphne said she is always open to new ideas and wants to hear more from the Bahamian public.
"When talking to people, I say that this is not my magazine, it's just my idea. It is our magazine and at the end of the day, all of us our contributing our thoughts, culture and what we like to see," said Daphne.
Although the Beautilicious magazine is produced in Grand Bahama, copies can be found at a number of salons, barbershops and beauty stores throughout Nassau, Abaco, Eleuthera, Bimini and Long Island. In future, Daphne hopes to include other islands as well.
The magazine is currently issued every six months, but Daphne believes this will change in the future. The next issue is expected to come out February 28, which will touch on women's health, spiritual beauty, why saving money matters, and other meaningful topics.