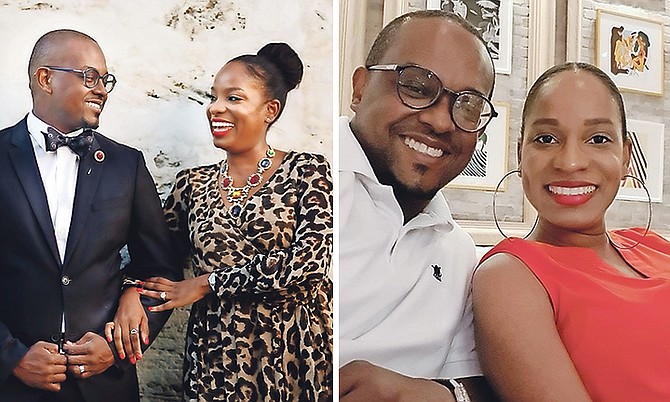 To celebrate February as the month of love, Tribune Woman will be taking a closer look at successful, long-term relationships, interviewing couples who think they've found the secret to true and lasting romance. Today, we speak to Derek and Lashanta Smith who have been married for 10 years and have four children together.
By JEFFARAH GIBSON
Tribune Features Writer
jgibson@tribunemedia.net
For many Bahamians, walking down the aisle to tie the knot is of their major goals in life. They idolise romance and marriage and. Often, they are motivated by what they have seen about love and marriage in movies, on social media and from other couples around them. However, in most cases the picture they see is incomplete; they are not witness to the grunt work and toil that goes into creating a love that can last.
Derek and Lashanta Smith – a compliance officer and human resources professional, respectively – have found their groove when it comes to making their marriage work. After a decade of wedded bliss, they believe they have accumulated sufficient experience and knowledge to pass on to others.
The couple is so committed to helping others thrive in love that they have created a resource specifically for married couples called Rekindle. It is a online marriage community started in 2016 to give couples help, advice and inspiration about things they can do achieve a healthy union.
In this Q&A the couple was asked questions about dating, courtship, expectations in marriage as well as intimacy and sex. Here's how they responded:
Q: What makes a person spouse material?
Derek: "A person who listens to understand and not to respond. A persons who counts you as number one after God."
Lashanta: "A person who respects you, supports you and loves God."
On marriage
Q: What was it about your spouse during courtship that convinced you they were 'the one'?
Derek: "The way I longed to cater to her every need."
Lashanta: "The way he treated me even when we were recovering from disagreements."
Q: What were some expectations you had about marriage that proved to be false?
Derek: "Sex wasn't automatic, but required work. I thought we would easily coexist, but this wasn't so."
Lashanta: "I assumed we would automatically be on the same page in every aspect because we were always agreeable while dating."
Q: What are some of the essentials people should consider before getting married?
Derek: "Your significant other's family life – parents' interaction, sibling interaction and other scenarios."
Lashanta: "Finances, roles in your marriage: who cooks, who cleans and who provides. The philosophy of family dynamics."
On sex and intimacy
Q: Is chemistry all that it takes to keep intimacy alive in marriage?
Derek: "No. It requires understanding of each other's needs, situations, moods, troubles and perspective. Additionally, sex and intimacy may not be synonymous. Sex is the act, but intimacy transforms it to making love."
Lashanta: "No. It takes willingness, commitment and constant practice."
Q: Is there a rule how often couples should have sex?
Derek: "This is a taboo topic in many marriages. This is the point that personifies for many couples the cliché that men are from Mars and women are from Venus. The fact is, this number needs to be agreed upon in the relationship. Also, it must be willing to bend based on external factors. However, the key in my opinion is that sex should not be held as a prize – sorry, guys and girls, but spite is not healthy in marriage – but be a climax that is encouraged.
Lashanta: "I think this depends on the couple. Communication about frequency must happen, and working together to find that happy medium is best. It doesn't always happen, but if you are open and honest, you can make things happen."
On disagreements
Q: What is your special way of resolving conflicts as a couple?
Derek: "There is no special way to me. I would only caution couples that disagreements in marriage don't always end with everyone winning."
Lashanta: "I don't think we have any one answer. However, a good old-fashioned apology is a great start and working to ensure the problem doesn't happen again."
Q: What does it truly take to keep a marriage together?
Derek: "Working at life together while still embracing each other's individuality. A spouse may be tasked with handling something for their family, however, the input of the significant other should be considered and infused into the action plan."
Lashanta: "Date night is the cornerstone of our marriage. We still make time for each other one night per week. We started a initiative called Rekindle – a dating community for married couples – a little over two years ago. We learned in marriage counselling the importance of staying connected and we've been sharing this message and learning with other married couples through social media, monthly group dates and our newest venture, Date-Night-in-a-Box."
• For more information about the Derek and Lashanta Smith's Rekindle community, visit www.rekindledatenight.com.