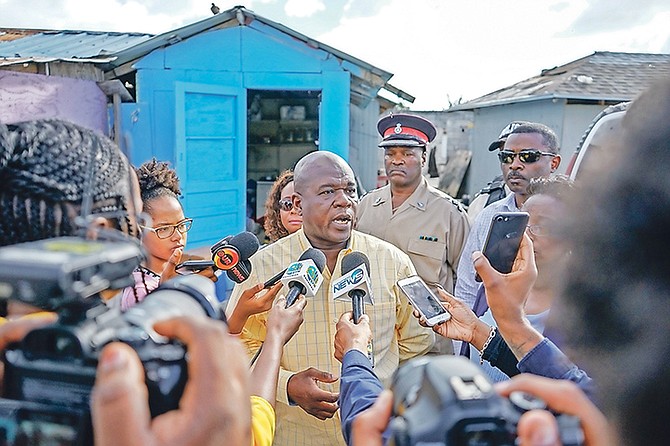 By RIEL MAJOR
POLICE shot and killed a man yesterday after he allegedly attempted to attack an officer with a silver knife in a shanty town located in the Joe Farrington Road area.
According to Chief Superintendent Solomon Cash, after 1.25pm the police launched a manhunt operation in the area to locate a wanted suspect.

"As a result of that, the officers went in separate directions behind the houses in this shanty town when they encountered the suspect," said CSP Cash.
CSP Cash said an officer approached the suspect and identified himself as law enforcement when the deceased pulled out a silver knife with a long blade, attempting to attack the officer.

He said: "The officer struggled with the suspect, trying to disarm the suspect, however the officer being in fear of his life at the time produced his service revolver and shot the suspect several times which resulted in him succumbing to those injuries."
CSP Cash also confirmed the suspect was a Bahamian of Haitian decent, between the ages of 20 to 24 and was not a stranger to police.
He added: "This was something specific as usual, once the suspect comes to the police's attention, we send our men out in search of those suspects with an effort to try and bring him into custody to try question them on all the allegations that they are suspected of committing.

"If it is brought to the police attention that a suspect is wanted for any crime and the police have reasons to go and arrest these suspects, if these suspects are violently attacking the police or producing weapons resulting in the death of officers - officers knowing their training if they are in fear of their life, they will use their revolver or pistol to protect themselves from any harm or death."
The incident will now be turned over to Coroner's Court for an investigation.
At the scene, the suspect's relatives were emotional.
His mother said: "I heard two shots, three shots in the front. I started walking and I watched my son lay down (in his blood.) I tried to walk by my son, an officer said 'don't touch him. Don't come any closer, go back' so I went back.
"My son is dead I can't feel good."
Other area residents were visibly upset about the incident.
The Tribune understands the deceased is Ben Joseph, however his identity was not released by police.