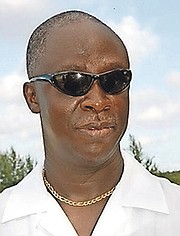 By DENISE MAYCOCK
Tribune Freeport Reporter
dmaycock@tribunemedia.net
DESPITE scientists estimating The Bahamas' conch population could be wiped out in 10 to 15 years, one Grand Bahama fisherman doubts the research.
Fritz Thompson, who has been fishing for decades, expressed strong concerns about recent articles published about the conch decline. He also does not believe studies conducted by scientists in the Bahamas warrant the local conservation of conch, citing his anecdotal experience.
"I have been fishing the whole northern Bahamas for over 39 years, I have personally studied the fish, conchs and lobster migration patterns here in our waters. I have used this information to make decisions on best fishing area and best times of year for different species," he said. "The conch decline articles circulating have me very concerned. I do not share the same view of a decline."
Mr Thompson believes fishermen can and need to harvest more conchs.
Recently, BREEF Executive Director Casuarina McKinney-Lambert responded to research that The Bahamas' conch population could be wiped out in 10 to 15 years. She called for the country to "chart a new path" toward a more precautionary approach to sustaining resources.
Mrs McKinney-Lambert believes that in order to reverse the low conch population, there needs to be implementation of "effectively managed" replenishment zones, and for the country to address the issue of illegal harvest by poachers and local fishermen. "(Bahamas Reef Environment Educational Foundation) BREEF has been sounding the alarm about the situation with conch for decades, including the 'Nassau grouper and queen conch status and management options' report in 2002," Mrs McKinney-Lambert said.
"This is a very vulnerable species whose populations have collapsed throughout the region. We want to make sure that this doesn't happen here."
In the wake of the research, Minister of Agriculture and Marine Resources Michael Pintard vowed to "aggressively engage" with stakeholders regarding conch conservation by beginning dialogue about a possible conch season.
Mr Thompson, however, who is also supported by other local fishermen, does not believe the research.
"We do have a serious increase in the rays, sharks and turtle population that are protected. Yes they all eat conchs and yes we do have poachers. Having all of these predators, along with local day fishers and commercial fishers, supplying our hotels, local restaurants, conch salad vendors, households and family members abroad, we have conchs," Mr Thompson said.
He noted the country's export quota started at 100,000 and has been raised over the years to 600,000. "We are meeting that demand because the conchs are there."
In a press release issued in January by Shedd Aquarium, the group revealed its research on more than 3,000 conchs at 42 survey sites throughout The Bahamas between 2009 and 2017, shows not only are the numbers of adult conch decreasing, but the densities of legal-to-harvest queen conch are now far below the established minimum threshold for reproductive success, except in the most remote areas. Additionally, the research showed that viable fishery for queen conch in The Bahamas might only last another 15 years, unless significant measures are taken to cut fishing pressure.
The Chicago-based Shedd Aquarium carried out the research study with the Community Conch Group, and the findings were published in the scientific journal "Reviews in Fisheries Science and Aquaculture" last October.
Mr Thompson believes the scientific study of those 42 sites does not warrant an alarm for The Bahamas.
"However, one can raise the question of conch survival in the protected areas," he stated.
He said in the area of West End, he has seen a proliferation of conch, for example. "West End was one of the sites mentioned. For those of you that know West End, it is famous for fresh conch salad and fried fish on weekends. On a bad weather day, I have seen guys swim just off shore and pick up conchs to sell to meet a fresh conch demand. They break them out there and discard the shells there," Mr Thompson said.
When comparing conch and lobster, Mr Thompson said that it is easier to find conch. He noted that one conch produces one million eggs a year while one lobster produces half a million. He indicated that the country exports four million pounds of lobster and only 600,000 pounds of skinned conchs. He explained that any skin and guts are dumped in the sea, providing food for nearby fish. "Any cutback or stopping of this supply gives them no other choice than to eat smaller fish which will surely have a major effect on the decline of the fish population," he contends.
"Being an experienced fisherman and knowing of our 180,000 square miles of waters, I would say that it would take about 10 years to cover all the conch aggregation sites and get a proper assessment."
The study in question covered a period of eight years.