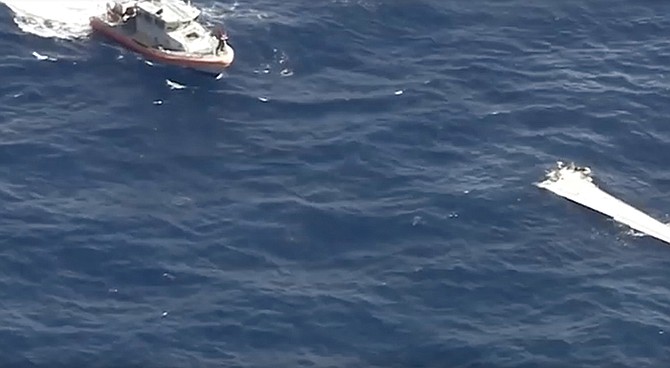 SUNDAY 11.50pm UPDATE: The US Coast Guard suspended its search for the second man from the downed Conquest Air airplane on Saturday afternoon. A US Coast Guard press release said: "The Coast Guard conducted maritime and aerial searches for approximately 21 hours and concentrated in an area of 364 square nautical miles. Numerous other searches were conducted by Miami-Dade Police Department and partner agencies. "'Suspending a search is never an easy decision and a lot of factors are considered and calculated before we make that decision,' said Capt. Megan Dean, commander of Coast Guard Sector Miami. 'We have been in regular contact with the family members throughout our search efforts and extend our sympathies for what we know is a very difficult time for them.'".
SATURDAY 1.30pm UPDATE: The US Coast Guard say they are continuing to search for the missing person from the aircraft.
MIAMI (AP) – The U.S. Coast Guard rescued one man after a Conquest Air plane that left Nassau crashed in the Atlantic Ocean about 13 miles off the coast of Miami early on Friday afternoon.
The agency said in a news release sent Friday that the airplane went down east of Bay Harbor Island while traveling from the Bahamas to Opa-locka, Florida.
Rescue crews hoisted a man into a helicopter and took him to shore.
Video footage (above from the WPLG Local 10 YouTube page) showed a wing in the water.
The Coast Guard said the Miami-Dade police and fire departments and a commercial salvage crew assisted in the rescue.
The US Coast Guard South East said on Twitter it will continue to search through the night for the second missing person.