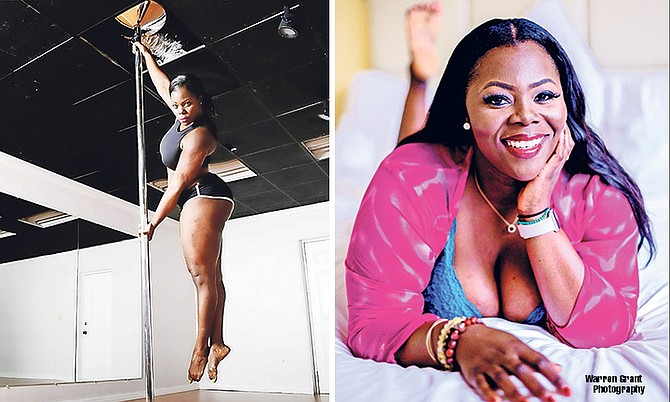 By JEFFARAH GIBSON
Tribune Features Writer
jgibson@tribunemedia.net
Having been a victim of body shaming on social media herself, Raphy Adderley is unrelenting when it comes to ensuring every woman that steps through the doors of her dance studio leaves feeling nothing but genuine love for themselves and their bodies.
She is the plus size pole dance teacher and new mother to an 11-month old daughter, who has been changing the way sexy is perceived, right here at 72 Dowdeswell Street, home of the Girl on a Pole Dance Studio.
In the intimate studio, women learn how to work a pole or chair and pick up skills on how to become a seductress. And most, if not all, of the time, sessions segue to conversations about love, sex, breakups, men, dance, and ultimately become therapeutic experiences.
But more importantly, Raphy stresses that her studio is a place where women will continue to get the "love thyself" pep talk if they need it.
She hopes to drive this message home during the studio's "V-Day Ladies Night" event on Thursday, from 8pm-10pm.
"I'm pushing the message of self-love and body acceptance, this is Girl on a Pole's mission all 2019. Women are always pressured to look a certain way or to be a certain thing. We're here to let women know that it's OK to be you,' she said.
Raphy promoted her message even more after being body-shamed by a fitness instructor who remarked on her size, saying she was not fit and needed to lose weight.
In response, Raphy created a video showing off her moves, climbing and swinging up on a pole expertly.
The video, which went viral in the Bahamas, was accompanied by a message encouraging the studio's followers to embrace who they are and to not allow anyone to shame them because of their size or shape.
An apology was later issued on social media by the fitness instructor.
"I have been a size 22, a size 10 and a size 4. And when I was a size 4 I felt like a size 12, that was how I viewed myself," said Raphy.
"For me this has always been about teaching women to be confident in who they are and loving the body they have right now. You may want to lose weight, but while you are on that journey, more than likely you will have that same body for at least the next few months. Why not love it?"
Raphy discovered pole dancing as passion a few years ago. She had always been drawn to the idea that she could get a work out in and have fun at the same time. And that's exactly what she does when she performs moves that leave her feeling like a pole goddess.
Though she wears a size 14 in clothes, and said her weight has been up and down over the years.
"I have always been thick, to be honest. I have learned to love my body and accept me," she said.
And while she accepts who she is, being a the plus size pole dance teacher doesn't come without some skeptism.
"One time I walked in a class and one student said to the other, 'You think that's the dance teacher?' The other said, 'No, girl, you see how big she is.' And that was a time when I was a lot smaller," said Raphy. "But I love when that happens because people get see me move and then they say, 'If she can do it, I definitely can'."
Raphy will be doing a special dance performance during the Valentine's event on Thursday.
"I also have a male panel who will be present for the probing questions we always have," Raphy told Tribune Woman.
"We talk a lot about experiences and sometimes we want answers, so I'm facilitating answers. I don't think the guys know how my girls are, but knowing them, they are open and willing to answer any question. There's always a good DJ present at our event so we plan to dance and sing the night away until we're ready to dip out of the studio," she said.
Last week marked four years since the opening of Girl on a Pole. In those year, she said, she has taught thousands of Bahamian women how to pole dance.
The event on Thursday will also be a celebration of that.
"Two years ago, after class on February 14, I decided to treat my students to eats and drinks afterward. Somehow it just turned into a good old fun memorable time. My students merged with another set of students and that was it, we found ourselves in conversation about love, sex, breakups, men, dance you name it and we spoke about it.
"I remember watching them at that moment in the lounge area of the studio, and they were just so happy demonstrating how to make sexual positions better or how to up their sex game. We are pretty much raw in our natural habitat. We had a ball in there. We probably left the studio after 11 pm that night making fun of how fun Valentine's Day could be for the single gals.
This year she wanted to relive that moment, intentionally, but only bigger better and in a more organised way.
"I also want to extend the fun to women who do not take regular classes at Girl on Pole Dance Studio to show off the perks of being a pole dancer or a student. The studio is such a fun place, it's a judgement-free zone, it's a place where you learn from women just like you. It's truly a place where you come to accept yourself as is and others around you," said Raphy.
The event is for any woman who would like to have something fun to do on Valentine's Day, she said.
"As single women, this day tends to dampen our spirits just a tad, knowing we won't get the bouquet of roses or that special delivery at work. No more pity party or expecting doomsday on V-day. Just stroll on down to 72 Dowdeswell and enjoy a fun-filled night planned exclusively for the single ladies."
Additionally, one lucky lady will receive a free photoshoot. Tickets for the event are $45. For more information, contact info@girlonpole.com or call 376-4086.