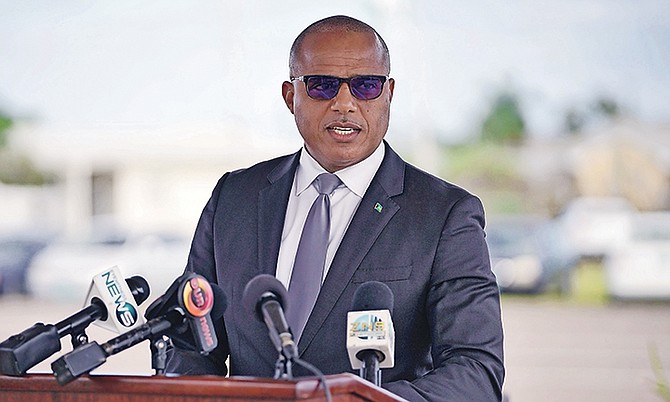 By KHRISNA RUSSELL
Deputy Chief Reporter
krussell@tribunemedia.net
A CRACKDOWN is coming for those strip club owners who employ undocumented foreign women, National Security Minister Marvin Dames warned yesterday, as he regretted the ruin of the country's "moral fibre" to human trafficking.
The minister further revealed Commissioner of Police Anthony Ferguson's plans to look into claims that Royal Bahamas Police Force officers allegedly own some clubs in the illicit nightlife circuit.
Pointing to the country's stiff human trafficking penalties, Mr Dames said: "We will be going after those persons very aggressively."
He was responding to a question from The Tribune yesterday regarding why charges were brought against women recently arrested in certain night clubs, but the owners faced no penalty.
Last month, immigration officials arrested 12 foreign women from three strip clubs in New Providence following a joint operation. Eight of them were later charged with working illegally.
Following this, The Nassau Guardian reported that Acting Assistant Chief Magistrate Carolyn Vogt-Evans blasted immigration officials for failing to charge the employers who give undocumented women work. She said it was "ridiculous" the owners did not face the courts.
Her remarks were seen as "offensive"by Immigration Minister Brent Symonette who also admitted officials needed to do a better job at charging some employers, the Nassau Guardian reported.  
"As I said before no one is above the law and I would expect that the police when they do investigate that they look at this holistically," Mr Dames said outside Cabinet yesterday. "I don't have the full briefing on it whether the evidence is there or whether police would have concluded their investigations.
"But this is a concern for us where persons are being recruited from neighbouring countries to come here and to work in these clubs – that's a form of human trafficking and the penalties are stiff.
"We will be going after those persons very, very assiduously. We will be going after those persons very aggressively, the police that is, law enforcement to ensure they are not growing this business because its bringing down the moral fibre of this nation and is exposing it to other forms of organised crime and criminality. That should not be accepted. "So I am certain the commissioner of police and his team of officers are looking into these matters and I would expect that as the agency responsible for enforcing the law, that they ensure that everyone in violations are brought to justice."
Asked about allegations that some police officers own and operate certain clubs where infractions occur, Mr Dames said: "Listen, those are assertions. If there (is) evidence out there that this is in fact the case then it should be taken to the police so that it can be addressed.
"Commissioner and I would have discussed this because I would have heard it too, but again we have to make certain sometimes that when we say things that there is evidence to back it up and that people know this as a matter of fact. Then I would recommend that they take it to the commissioner of police so that it can be addressed.
"But I heard the same thing and I discussed it with the commissioner and he has assured me that he would be looking into it. When it is found out that this is in fact the case and is a violation of the law or any force policies or regulations, whatever, then I am certain that the commissioner will take the appropriate action."
The minister further commented on the RBPF's crime fighting strategies.
He said he remains confident with the force's measures, despite four murders recently occurring in three days, the second time this month that several people were killed within hours of each other.
While he called the crimes "unfortunate" and admitted they evoked a certain level of fear among citizens, Mr Dames said there is evidence the strategy is working.
He insisted that murders are down when compared to this time last year.
However, he said, the reality is there is just no way there will never be any murders.
The minister said this is because certain factors are at play as he suggested the latest killings were retaliation and/or gang related.
"I don't want to get into the motive," he said during comments on the recent spate of killings. "But like I said there is a common thread here. A trend that you see when you see incidents like this.
"It's usually a conflict between young men who may be associated with different groups whether it's because of proximity to one another or whether it's because of some feud over something that often results in this and also the accessibility to firearms."
He also said: "They are living in communities in homes and often times with their parents. We need more people to stand up and be counted. Don't call on the police when the incident would have taken place."
As police continue to target criminals and criminal acts, Mr Dames said a team is in town to instal the first set of equipment for the implementation of ShotSpotter, cutting edge technology that will be able to detect where and when guns are fired.
The request for proposals for expanded CCTV coverage has also gone out.
Additionally, he said, between this week and next week, police body cameras will be up for discussion at Cabinet. He also said "very shortly" video cameras for police cars will be also introduced.