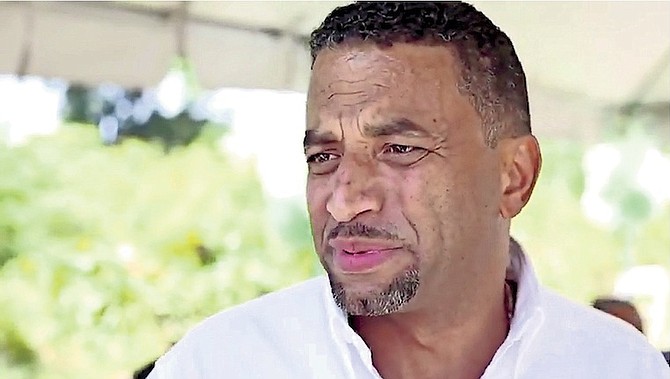 By NEIL HARTNELL
Tribune Business Editor
nhartnell@tribunemedia.net
The Democratic National Alliance's ex-leader yesterday urged The Bahamas to "draw the line in the sand" against blacklisting-type actions, and tell the European Union (EU): "To hell with you."
Branville McCartney, reacting to the EU's decision to brand this nation a "high risk" jurisdiction for financial crime, told Tribune Business that The Bahamas would continue to be hit with such blows "no matter what we do" because such bodies would always "move the goal posts".
Acknowledging that The Bahamas should have dug its heels in much earlier against such practices, Mr McCartney said this nation must "stop fooling ourselves" and recognise that "the ultimate goal" of groups such as the EU and Organisation for Economic Co-Operation and Development (OECD) was to "wipe out our financial services industry".
With the sector in slow, continuous decline since 2000, he urged The Bahamas to take back control of its economic destiny through diversification and seeking out new industries such as medical marijuana - which he argued could evolve into "a billion dollar industry".
With The Bahamas now grouped with multiple rogue states, war-torn countries and international pariahs on the EU's 23-nation "high risk" list, Mr McCartney said: "No matter what we do every time they move the goal posts.
"We must realise there's nothing we can do in terms of satisfying these people, and they're going to continue to move the goal posts, which is so unfair. We have to recognise that. We have to recognise that we can change all the laws in the world, be as compliant as we can be, but - at the end of the day - we will never satisfy them.
"We must ensure we have other industries that broaden this economy. From 2000 our financial services industry started to die and it is not going to come back.
The 11 laws passed to ensure The Bahamas escaped the Financial Action Task Force's (FATF) "blacklist" that same year resulted in an instant shrinking of this nation's financial services industry, which has been kept off-balance ever since by a constant barrage of similar actions and regulatory initiatives targeting itself and other international financial centres (IFCs).
The Bahamas has struggled to develop a viable, sustainable business model for its financial services industry every since, and Mr McCartney said this nation was better off ignoring the "blacklisters" and forging its own path to comply with best international practices and regulatory standards.
"We should have drawn the line in the sand a long time ago," he told Tribune Business, "and said: 'To hell with you'. To hell with you, to hell with you. Both administrations, FNM and PLP, have done what they had to do but they continue to put more stringent regulations on us.
"Who are we? Let's not fool ourselves. Draw a line in the sand, to hell with them and move on. Do what we have to do otherwise. We have to diversify our economy. It's not going to change. They will continue to tell us this every time they put new regulations and requirements on us.
"We will do our best to beat them, and then they turnaround and blacklist us. To hell with them. You blacklist us, fine. Let's do what we have to do, what is necessary to benefit our country. I guarantee you that if we amend or change our laws they will in a few months come up with something else," Mr McCartney continued.
"Draw the line in the sand. They're going to do what they want to do. They want to wipe out our financial services and banking industry. That's their ultimate goal. Why play their game? For years we've been giving them things, trying to comply and do what they want. It's not going to change. Let's recognise that and diversify our economy.
"We can't allow these fellas to sit around the table looking at how they can mess with The Bahamas and take away our banking industry. Hopefully those that lead us will see the light ,and do what is necessary to bring this economy around and not be afraid to do it. It's the same as doing business: You have to take risks. They have an ultimate goal. Why play their game? Draw the line in the sand. Period."
Mr McCartney's stance was backed by James Smith, the former minister of state for finance and ex-Central Bank governor, who argued that the EU's actions in branding The Bahamas as "high risk" were "deliberate and vicious".
"I don't think it'll ever stop," Mr Smith told Tribune Business. "If you go back in history we see how many times the Government has acceded to the demands they make, shown we've done it, and they move the goal posts. This will never stop. It's frustrating, and the Government must be frustrated.
"They don't mean us well. It's deliberate and vicious. We're a sovereign country and need to stand up and say we're part of the international community, we know what is required and we are doing it."
Mr Smith reiterated previous calls for The Bahamas to form an alliance with other international financial centres (IFCs) subject to the same pressures, and adopt the stance that it is "not going to be concerned about blacklisting" and will instead pass laws appropriate to its economy and society that bring it into line with global best practices in fighting financial crime.
Otherwise, he argued, this nation will always be scrambling "at the whim and fancy of international organisations" to meet their ever more-onerous regulatory demands designed to drive The Bahamas out of the financial services business.