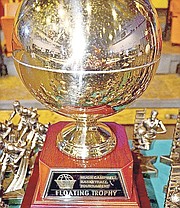 OSSIE 'the Sportsinside' Simon released his top 12 ranking for the senior boys' basketball teams going into 35th Hugh Campbell Basketball Classic today at the AF Adderley Gymnasium
Doris Johnson

St George's

CI Gibson

Tabernacle Baptist Academy

Anatol Rodgers

Sunland Baptist Academy

CC Sweeting

Government High

St John's

Jack Hayward High

Bimini Gateway

Queen's College
THE 35th Hugh Campbell Basketball Classic is all set to get underway today at the AF Adderley Gymnasium.
• Here's a look at how the teams are stacked:
Pool One - Dame Doris Johnson Mystic Marlin, CR Walker Knights, Jordan Prince William Falcons, Grand Bahama's Sir Jack Hayward Wildcats, Bimini's Gateway Academy, Mt Carmel Cavaliers and Kingsway Academy Saints.
Pool two - CI Gibson Rattlers, Government High Magics, Grand Bahama's Sir George's Jaguars, Charles W Saunders Cougars, Patrick Bethel from Abaco, Teleos Cherubims and Temple Christian Suns.
Pool three - Tabernacle Baptist, Bahamas Elite, CC Sweeting Cobras, Eight Mile Rock Bluejays from Grand Bahama, Central Eleuthera, St John's Giants and St Anne's Bluewaves.
Pool four - Grand Bahama's Sunland Baptist, CV Bethel Stingrays, Anatol Rodgers Timberwolves, Grand Bahama's Bishop Michael Eldon Warriors, Abaco's Agape Academy, Zion Academy and Queen's College Comets.
• Here's a look at the schedule for the first two days of competition:
TODAY
5pm - St Anne's vs Bahamas Elite
6pm - Kingsway Academy vs CR Walker
7pm - Jordan Prince William vs Mt Carmel
8pm - Anatol Rodgers vs Zion Academy
TUESDAY
5pm - Government High vs Temple Christian Academy
6pm - Queen's College vs CV Bethel
7pm CW Saunders vs Teleos Academy
8pm CC Sweeting vs St John's College