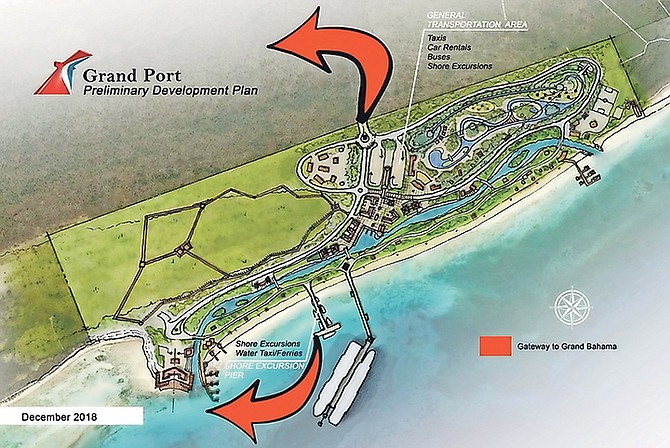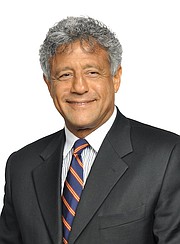 By Frederick Smith, QC
Carnival's Grand Port project is shaping up as an ideal model for how development should occur in The Bahamas. It is being pursued transparently and in accordance with the law, through a commitment to environmental preservation, with an approach that will empower Bahamians and – importantly – at a site ideally placed to spark an unprecedented explosion of economic opportunity for Freeport, where, post St George, I have persistently been the most vocal proponent for development.
If the government can convince investors to replicate this development model going forward, The Bahamas would finally be able to reconcile those supposedly eternal antagonisms: the need to create jobs and the obligation to protect our natural resources. As it turns out, these do not have to be conflicting priorities.
Before proceeding, I should clarify a few points. First, I have been asked how a vociferous defender of the environment can be so enthusiastic about a large industrial project. To be clear, I have never opposed developments just for the sake of opposing, or argued against the need for development in general. Rather, I oppose specific deficiencies of a given project, usually some mix of lack of due process, unregulated development lacking permits and approvals, contravention of laws governing development, unnecessary or egregious levels of environmental damage and lack of transparency and accountability.
Second, my support came only after the original plan to locate Grand Port in the distant and pristine environment of East Grand Bahama was scrapped. I was among the fiercest public critics of that earlier scheme, which was likely to impact marine life, destroy coral reef systems and greatly alter the way of life in the surrounding communities, and importantly isolated from the Freeport economy. Usually, developers pay absolutely no attention to the views of the local population, steamrolling ahead with their plans regardless. In this case, Carnival heard us. We cannot criticise developers for not listening, then fail to support them when they do.
Third, my stance is in line with the mantra of Save The Bays, which does not oppose development in general, but rather unregulated development in particular. Nevertheless, I am but one director and cannot speak for the rest; this is my own. STB has not announced any official position on the project.
And fourth, mine is one of several law firms that represents Carnival in The Bahamas for more than two decades; though as I said, this has never stopped me criticising them in the past whenever they get it wrong.
An ideal location
This time, Carnival got it right. As I have written before, in terms of large-scale development, Freeport has always been the place to be. Enjoying an economic boom 1950s and early 60s until this audacious economic experiment was strangled to death by Pindling and Hannah's PLP. Freeport's resurrection is key not just to a vibrant economic future for the entire country, but also a new era of enlightened environmental protection and cultural preservation across The Bahamas.
Our policy of allowing developers freedom to choose from among our most beautiful and unspoiled ecological treasures has meant potential environmental, economic, social and cultural fallout from accidents or irresponsible development practices is spread across our archipelago.
Development must happen. Development come with risks. Surely it makes sense to concentrate risk in one place so as to better preserve the rest of the country for future generations. This is the idea behind Freeport – a hub for large-scale industrial, touristic, agricultural and residential activity - and the associated risks - all gathered in a single location, thus allowing the rest of The Bahamas to be spared, even as we enjoy the fruits of Freeport's bounty.
If we must build mega-resorts, mammoth cruise ports and industrial facilities, what better place than a city already fitted with world-class infrastructure and tailor-made for large-scale developments? From an environmental perspective, you simply cannot compare the relative impact of a given development on an industrial zone – one already home to a manmade deep water harbour, a mega-shipyard and cruise port, a container port, crude oil bunkering facilities, chemical plants, etc. – with its destructive effect on a pristine, secluded area home to virgin beaches, untouched mangrove forests and reef systems teeming with life. Many of the developments I have bitterly opposed over the years would have received enthusiastic welcome from myself and other environmentalists had they been envisioned for Freeport.
Taking back control
By driving the large-scale industrial projects to Freeport, the rest of The Bahamas could be developed, "Respecting the Locals", in an environmentally friendly manner, with unobtrusive eco-resorts dotted throughout the archipelago and serving as the launching pads for immersive nature tours, diving expeditions and hiking excursions. This is the future of global tourism. High net worth individuals pay top dollar for such authentic experiences. Best of all, the scale of these discrete, exclusive resorts means that for the first time ever, Bahamians have a realistic chance of owning a lucrative part of our economy.
A policy mandating where development can and cannot be located, based on its nature and in accordance with a carefully considered development strategy, would mean that finally, we would cease to lose our most precious assets to the whim of foreign developers. By the Planning and Subdivision Act 2010 Parliament mandated a National and island Land Use Plans. Due to lack of political will in the Executive these do not exist. Even the Supreme Court in the recent Nygard series of Judgements has ordered to DPP to effect an LUP for New Providence by September 2019.
Finally, we could be in charge of our own destiny and allowed to grow and progress according to our own wishes. Individual islands could have a say in what kind of development their people want to see and endless economic opportunities could be created without the wholesale sacrifice of our environment or local culture. The key to this strategy is that developments like Carnival's be located in Freeport.
Commitment
This is not to say that Freeport should be a free-for-all of environmental destruction. On the contrary Carnival's plan shows a serious commitment to environmental sustainability such as is rarely been in large-scale developments. It also gives the government an ideal opportunity to finally bring into effect the Freeport Environmental Bye Laws which have been sitting on each minister's desk for approval for the last 20 years!
Voluntarily, Carnival is developing an Environmental Management System designed to mitigate environmental impact, including low waste generation, high standards of waste management and responsible water management. There will be a ban on single use plastics and products, and minimal use of products which become solid waste such as aluminium and glass.
Carnival plans to create an advanced wastewater purification system with zero discharge into the coastal environment and rainwater harvesting for basic water uses as well as systems for the indirect discharge of storm water to ensure no direct discharge into the marine environment. All rooftops will be outfitted with photovoltaic solar panels, allowing for excess power to be fed back into the power grid to reduce reliance on fossil fuels.
At 379 acres, this will be the largest port of its kind ever developed by Carnival, yet it has committed to leaving more than half of it untouched and seeking a partnership with the Bahamas National Trust to create tours, excursions and a nature centre. They have also committed to the removal and replanting of any coral reefs likely to be affected by the marine works and there will be protective zoning of sensitive habitats and even a mangrove conservation and restoration programme.
There is also a commendable commitment to transparency. Although an Environmental Impact Assessment is not required by law for the on-land part of the development, which comprises the vast majority of the project's scope, Carnival have committed to conducting one anyway. Uniquely, community engagement is a cornerstone of the project and meetings have begun with residents, business leaders, government officials, environmentalists, the Christian Council and others.
I and other environmentalists have noted in the past that large-scale tourism developments like Bakers Bay at Guana Cay, are a form of neo-plantation; arriving unbidden in the heart of a small community and towering over its economy, traditions and culture, altering the community forever and leaving locals with little choice but to submit to the roles offered them. They must trade in their bonefish poll for a janitor's mop, their craft business for a waiter's tray.
Carnival however, has a radically different vision. Unlike the majority of isolated island cruise ports, Bahamian businessmen and entrepreneurs will benefit. All retail stores and restaurant will be local operations, as will the musical, visual and craft artistry on display. Anyone with a good idea can apply to see their vision turn into a reality within the Port, and with a need to feed, provide goods to and entertain anywhere from 4,000 to 12,000 passengers a day, the economic potential is truly staggering. Freeport is desperate for this. Many Freeporters are without hope and even homeless and starving.
With so many tourists within easy reach, a 'mini-town' is expected to spring up outside the port. At the same time, the entire island will benefit, with locally run tours and excursions slated to take passengers and their dollars throughout Grand Bahama. People in the east and west will be able to benefit without having to witness the destruction of the environment upon which they depend. This level of commitment to empowerment and economic opportunity for Bahamians is truly impressive and as far as I know, other than Freeport itself, the first of its kind in The Bahamas.
A balanced view
This project is a win-win for The Bahamas and an opportunity to break decisively with the past and change our development model for the better. Its economic benefits will be felt throughout Grand Bahama and reverberate across the country. I for one, hope it is the first of many large-scale developments for Freeport.
We environmentalists are often portrayed as the enemies of progress, routinely accused of caring more about trees and fish than jobs and social progress. We are scoffed at when we say we are not against development, only unregulated development; not opposed to economic progress, but for transparency and accountability.
And yet, when some of us declare our support for a project which we believe conforms to our convictions, we are immediately vilified, accused of being sell-outs and hypocrites. I would humbly urge both environmentalists and the Bahamian people in general to take a balanced view. Not all job-creating developments are blessings; not all large-scale projects are cursed. It is a matter of being able to tell the difference.