By BRENT STUBBS
Senior Sports Reporter
bstubbs@tribunemedia.net
IT was another busy weekend for a number of Bahamian elite and collegiate athletes.
Myers Victorious
Competing in the Gibson McCook Relays at the National Stadium in Kingston, Jamaica, Tamara Myers soared to victory in the women's long jump.
Representing Jumpers Inc Track Club, Myers cleared 6.53 metres on the second of her six attempts to post the win. Her nearest rival was Todea Kay Willis of Akan Track Club in Jamaica with a best of 6.47m on her third attempt.
Myers' series of jumps included 6.49m on her first attempt, 6.45m on her third and 6.43m on her fourth before she fouled both the fifth and sixth jumps.
Etienne third
At the Big Ten Championships in Ann Arbor, Michigan, Jyles Etienne had to settle for third place with his leap of 2.16m (7-1).
Mayson Conner, a freshman at Nebraska, topped the chart with 2.23m (7-3 ¾, while Miles Griffith, a sophomore at Nebraska, took second with 2.16m (7-1).
Purdue's sprinter Samson Colebrooke proved his strength as he had double duties in the men's 60 and 200 metres, but could do no better than fifth in both of them.
Colebrooke advanced to the final with the fourth fastest time in the qualifying round of the 60m in 6.75. In the final, Colebrooke got fifth as he once again ran 6.75.
After advancing in the 200m with the seventh fastest time of 21.31, Colebrooke improved to a fifth place finish in the final in 21.19.
His team-mate Tamar Greene was seventh in the long jump final with a leap of 7.16m (23-6).
The winning leap was 7.67m (25-2) by Nebraska's senior Elijah Lucy.
However, Greene came back in his speciality in the triple jump where he leapt to a second place finish with a distance of 15.88m (52-1 1/4). Eric Bethea, a senior at Indiana, won with 15.99m (52-5 1/2).
Competing for Penn State in her senior year, Eleuthera native Keianna Albury just missed out on her opportunities to advance to the final in both the women's sprints.
In the 60m, her time of 7.55 was only good enough for ninth place. The eighth and final spot was timed in 7.54 by Antoni Christian, a sophomore at Iowa State.
She came back in the 200m and completed the one-lap race on the 200m track in 24.23 for another ninth place. Again, she was beaten out in the last and final qualifying spot by Gabri Des Roisiers, a junior at Wisconsin.
Bethel fell shy of triple victory
Grand Bahamian Brianne Bethel, a junior at the University of Houston, sped to victory in the women's 200m and got second in the 60m at the American Indoor Track and Field Championships.
The University of Houston's junior clocked 23.12 to take the tape ahead of Cincinnati's freshman Caisja Chandler, who trailed in 23.52. The performance came after Bethel finished second in the 60m in 7.30 behind SMU's junior Chelsea Francis, the winner in 7.27.
As the meet came to a close, Bethel anchored Houston's 4 x 400m relay team of Payge Side, Birexus Hawkins and Jazmyn Tilford-Rutherford to victory in 3:37.82.
It was a Bahamian connection on the relay team as 5-6 junior Tilford-Rutherford is the daughter of University of Houston's star and Bahamian Olympic triple jump bronze medallist Frank Rutherford and Melissa Tilford-Rutherford.
Following in the footsteps of her father, Tilford-Rutherford got 10th in the triple jump final with 12.12m (39-9 ¼) and was 25th in the 400m in 58.33.
Bethel is the identical twin sister to Brittni Bethel, a 5-7 red-shirt sophomore. Brittni Bethel has not competed since the indoor season last year when she suffered an injury.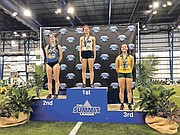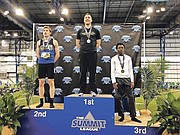 Wells, Stubbs and Dormeus all winners
At the Summit League Indoor Track & Field Championships at the Sanford-Jackrabbit Athletic Complex in Vermillion, South Dakota, the Bahamas was represented by three competitors in the women's 60m.
Sahsa Wells beat out her Oral Roberts' team-mate Kayvon Stubbs for the win in the 60m in 7.54. Stubbs had to settle for fifth in 7.74. Wells had the fastest qualifying time of 7.62 for fourth place, Stubbs was sixth in 7.82 and Moss was eighth in 7.84. Moss did not contest the final.
Wells also doubled up in the final of the 60m hurdles with her victory in 8.47. The time, however, was off her fastest qualifying of 8.41, which was another new school record. Gabrielle Gibson, a freshman at Oral Roberts, was fourth in 8.63. Gibson had the third fastest qualifying time of 8.53.
But in the 200m, Stubbs crossed the finish line first in 24.03 ahead of Wells, who did 24.50 for second. Stubbs and Wells came through in that order as well in the qualifying round in 24.55 and 24.69 respectively.
Moss, a sophomore at North Dakota State, didn't contest her speciality in the high jump. Instead she participated in the long jump where she was 14th with her best leap of 4.79m (15-8 ¾).
And on the men's side, Bradley Dormeus, a freshman at Oral Roberts, won the men's 400m in 46.65 after he came through with the second fastest qualifying time of 47.64. Dormeus was also was third in the 200m final in 21.43 after he got the third fastest qualifying time of 21.51.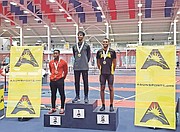 Rolle shines
In the ASUN Indoor Track and Field Championships at the Liberty Indoor Track Complex, Branson Rolle had a heavy schedule but he was able to come through with some glaring performances for Liberty University.
Rolle, a sophomore, won the men's long jump with a leap of 7.11m (23-4) in the sixth round. He was also second in the high jump with a clearance of 2.02m (6-7 ½) and fourth in the 60m hurdles final in 8.19 after he had the fifth best qualifying time of 8.45.
Ferguson finished seventh
At the Mountain West Indoor Track and Field Championships at the Albuquerque Convention Center in Albuquerque, New Mexico, Fresno State junior Andira Ferguson got a seventh place finish in the women's long jump with a mark of 5.67m/18-7.25 on her fifth.
Ferguson's team-mate Latia Saunders, a freshman, didn't have a javelin event to compete in at the meet. But Acacia Ashwood, a freshman at UNLA, was 10th in the women' discus with a heave of 17.22m (56-6).