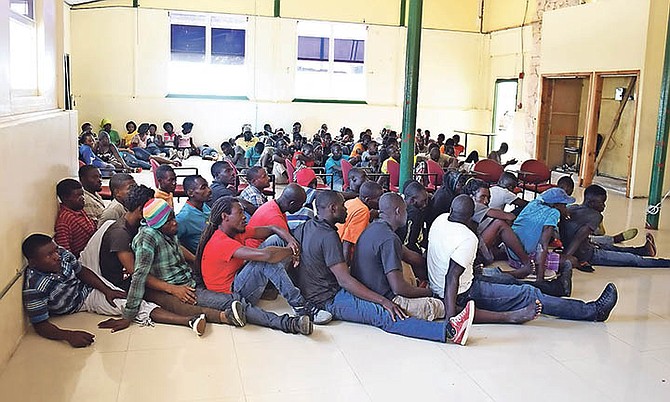 By KHRISNA RUSSELL
Deputy Chief Reporter
krussell@tribunemedia.net
AS illegal migrant landings have increased in recent weeks, Prime Minister Dr Hubert Minnis said the government remains committed to aggressively dealing with the country's immigration problems which he said poses a serious threat to major sectors of society.
In an interview with The Tribune yesterday, the prime minister said he is aware there are many Bahamians who feel not much has been done to stop illegal immigrants, but he insisted "a lot" has been accomplished.
Questioned further, Dr Minnis said initiatives by his government would become clearer in his upcoming national address, which is expected to air soon.
Officials have been busy apprehending Haitian migrants who have endured the treacherous journey by sea from their homes in search of a better way of life here in The Bahamas.
Royal Bahamas Defence Force officials say this time of year is considered the peak migrant smuggling season due to windy weather conditions which aid their sloops. On Saturday, the RBDF apprehended 101 Haitian nationals in Northern Exuma. Another 54 were picked up in Abaco last Thursday.

Since the start of the new year, 304 migrants have been intercepted in three separate incidents, officials said, while 600-700 were apprehended in 2018.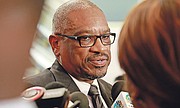 "I have had long conversations and communication with the Director of Immigration (Clarence Russell) and we speak with one voice and basically with the same voice in terms of how (we) will attack it," Dr Minnis told this newspaper.
"We continue to deal very aggressively with this matter because it can be a threat not only to our economy, but it can be a threat also to our national security.
"I think Bahamians must do their part and likewise the government will do its part and put all the infrastructure in place to deal with it as best as we can but every Bahamian must do their part and take on their responsibility because a continuous influx of illegal immigration will affect our health system, will affect our educational system and eventually most of all affect our economy, which would affect our livelihood."
He added: "We've accomplished a lot when it comes to the direction we've moved in, but we can do even better. One must not ever sleep on its successes or its laurels. One must always try to do better and be better."
The government will have a tough sell trying to convince Bahamians that much has changed when it comes to illegal immigration.
In November, Press Secretary Anthony Newbold struggled to explain what changed about the country's enforcement of immigration laws more than a year after Dr Minnis set a deadline for illegal immigrants to leave the country or face apprehension.
October 2018 marked the one year anniversary since Dr Minnis made the hardline announcement in the House of Assembly, declaring that if illegal immigrants failed to leave by December 31, 2017, they will be "aggressively pursued and deported".
With no apparent change in aggression, Mr Newbold has suggested Bahamians were wrong to expect visible signs of ramped-up enforcement activities.
"I think one of the things is when we think about enforcing immigration laws, people think and this depends on how jaded you might be, people think of buses in the middle of the night rousting people out of their homes," he said at the time.
"Nah nobody's going to do that. What (the prime minister) says is 'do what you're supposed to do, follow the law, apply, get yourself straight or you are going to be prosecuted'. That is happening. What else is a big part of that is what is happening with the shanty towns. Of course nothing is happening with the shanty towns, it's a matter before the courts. He says I'm going to enforce the law. We find you we are going to prosecute you, we're going to send you to jail, whatever it is, the minister responsible has been speaking to that, that is what is happening but if people expect you will see buses riding the streets of Nassau rousting people out of their homes at night that's not whats going to happen."
Dr Minnis had suggested there would be increased prosecution of people who employ illegal immigrants, but Mr Newbold couldn't provide figures indicating whether such an increase has taken place last year.
Instead, he said "whenever (people have been found to employ illegal immigrants prosecution) has happened."
officials have taken a hard look at past failures that have allowed mass amounts of illegal migrants to work their way up the archipelago undetected.
In November 2017, there was a significant public outcry after an empty sloop was found on the shoreline of Adelaide Village.
Then Immigration Director William Pratt said at the time he "had no idea" how such a large sloop could land so close to the RBDF Coral Harbour Base and go undetected. He suggested the RBDF should perhaps "improve their surveillance".
Authorities said they believed the immigrants who landed at the time had help from people already on New Providence.
Referring to incidents like this, Mr Dames said: "Those mishaps have put us in a position where we now value every bit of information we can obtain. The (RBDF) is working to saturate our waters with manpower. The strategy as I've said is to be there. We are there, always.
"We've studied the routes that have been a struggle in the past and we are there in numbers. We've taken a look at the locations that have showed no problems, almost to see if we can learn what exactly is working there and how we can utilise those strategies in some other areas," Mr Dames added.
"But to keep it brief, we've relied on quality intelligence at every turn. We will not relent. We will not let up because the Bahamian people want us to keep going. This is good, but it will not be good enough until the numbers are down to zero across the board."
RBDF personnel over the weekend referred to the earlier winter months as the "active season," insisting that migrants depend on heavy wind-flow to assist their vessels in manoeuvring the seas.
"Basically, this is the winter season where we have strong winds and these are basically sailing vessels that would need the wind to move from the south to the north. So this is the main reason why they would use this (time), December, January (and) February, to try and move to the Bahamas," Commander Clarence Dean, RBDF commander of operations said.
He added that the agency has expanded its efforts in waters around New Providence, Exuma, Abaco and Eleuthera; referring to the areas as high-traffic spots.
According to Commander Dean, the RBDF captured more than 600 migrants last year.