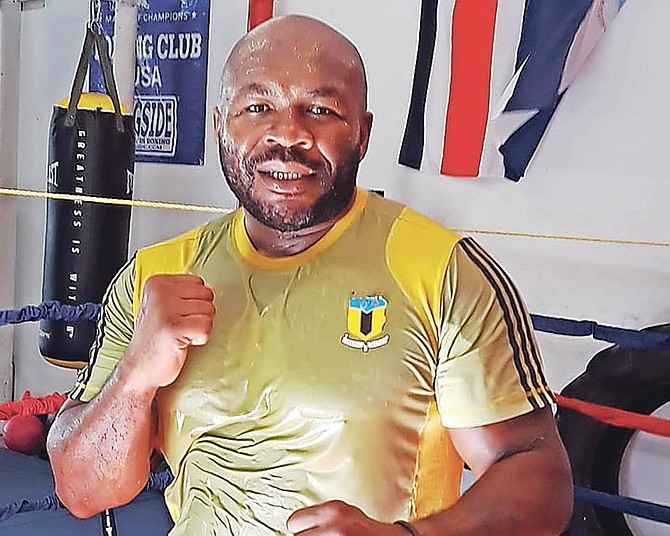 By BRENT STUBBS
Senior Sports Reporter
bstubbs@tribunemedia.net
As he heads into the new year, Bahamian journeyman heavyweight boxer Sherman 'The Tank' Williams is hoping to continue where he left off last year on the winning track.
The 46-year-old resident of Vero Beach, Florida, is slated to step back in the ring on Friday, January 18 in Colombia when he takes on Samuel Miller in a 10-round co-main event.
"The first opponent pulled out of the fight over the weekend," Williams said. "This new opponent is 6-foot-2 and the original opponent was 6-foot-1, so it's similar guys.
"It don't make a difference. I've been focusing on the things that I need to do to get the victory in Colombia on January 18."
It will be Williams' first fight since May 26 when he won a technical knockout over Epifanio Mendoza at the A Social Affair and Convention Center in his hometown of Grand Bahama.
"My preparation is good. Actually before the Christmas break, I was in Denmark for three months. I had a fight that was scheduled, but it was postponed," he said.
"But I trained continuously in October, November and December before I left Copenhagen. So my condition is good. My training is good. I put on a few demonstrations and a few training camps, so I'm in great shape."
However, Williams said he's not taking his opponent lightly.
"The opponent is pretty clever. I'm going to do the classic Tank Williams show, using my jabs and getting in close and walk him down and try to touch his body and just take control of the fight from round one," Williams projected.
"I feel that if I can close the distance and touch him to the body, then I can obviously hit him with the overhand right, the conch punch. If I can catch him with my overhand right and left hook, it will be a short match for him."
During the Christmas break, Williams was back home where he attended the junkanoo festival and he began the groundout for the Bahamian Sons Promotional Back Yard Ramble Part II that will be staged at the Kendal Isaacs Gymnasium on April 5.
"There's a lot that is going to go on in 2019 and so it will be good to start the year off with a victory in Colombia, fighting this early in January," he said.
"Most fighters are actually on vacation in December and don't want to get in the gym and sacrifice for an early fight in January. But when the fight presented itself, I took advantage of it."
As a competitor who sleeps, breathes and eats boxing, Williams said he's always in the gym working out under the supervision of Izzy Martinez and waiting for the next opportunity to compete.
"I feel good. I'm confident and I'm happy. 2019 looks pretty productive and promising for me," he stated.
In his final preparation for the fight, Williams will head to Colombia on January 15, just in time to arrive on January 16 to get over his jetlag and complete all of the formalities.
Once the fight is done, Williams will turn his attention full steam ahead to the Backyard Rumble that will include new heavyweight sensation Amron Sands, Tyrone Oliver and Rashield Williams.
Williams said he is also looking at including Tureano 'Reno' Johnson on the show as well.
On the possibility of fighting undefeated (7-0) Sands in the near future, Williams said it's not in his cards right now. "It all depends on how much longer I go forward, but Sands was on my card in Grand Bahama because I wanted to build a platform for him and Tyrone Oliver and a few other amateurs turned pros. "I think it would be premature for me to fight Amron Sands. He's just in the growing stages. He's just at the beginning of his career. He hasn't had 10 fights yet and I'm getting ready to wind down my career and finish off strong."
As a volunteer coach in the Police Athletic League in Florida, Williams said he will also be looking at the possibility of working with president Vincent Strachan and the Bahamas Amateur Boxing Federation to have some of the local boxers fight over there.
"I'm trying to bridge the gap and try to get the small boxing community fraternity that once existed alive again in the Bahamas," he stressed. "Those fighters who are no longer fighting, we can use them as coaches and officials.
"I think what Bahamian Sons and Backyard Rumble is going to do is build a platform for professionals and amateurs to fight and I'm committed to doing that in the future."
Bahamian Sons and Backyard Rumble is headed by Williams' wife, Kimberly. They are based out of Florida, but Williams said the plan is to have as many fights as possible in the Bahamas.