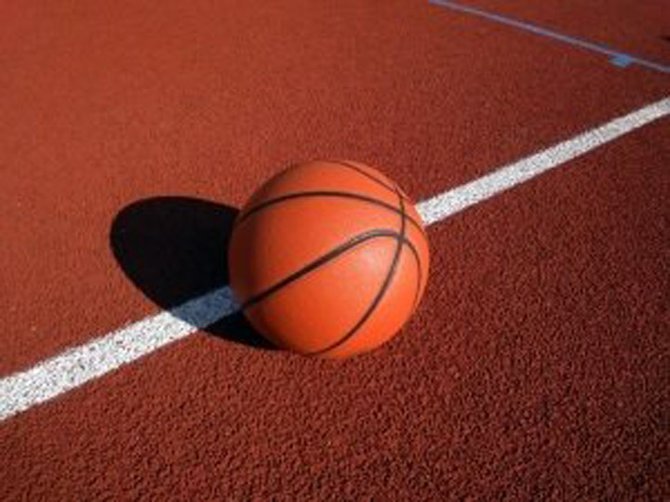 By BRENT STUBBS
Senior Sports Reporter
bstubbs@tribunemedia.net
IT wasn't the type of performance that head coach Hattie Moxey anticipated, but she was delighted that her Jordan Prince Williams Falcons flew out of Kingsway Academy with a hard-fought win over the Saints.
The Bahamas Association of Independent Secondary Schools' three-time defending senior girls champions, with just one starter returning to their line-up this year, clinched a 32-27 victory yesterday at Kingsway Academy.
Scoring in spurts, due to the Saints' swamping defence, the Falcons managed to break away from every challenge they got with a balanced scoring attack with four players leading the way. Tereca Williams paced the way with nine points, Brianna Stevens, Trecia Brown and Dominique Rolle all contributed six and T'Khya Bain chipped in with four in the win.
"It ain't what I expected of them, but they haven't been coming to practice that is why they play the way they do," said Moxey as her team improved to 2-1. "We could play better than this, but I would expect the win. I just expect better from my players."
Moxey, however, said if her Falcons are to get back to the championship to defend their title, they have to go back to the drawing board and practice.
"They need practice. They are out of shape," she stated. "So they need to do some running and ply and defense."
Despite their lackluster performance, Jordan Prince Williams controlled the tempo of the game from the start. They went on an quick 5-0 lead before Kingsway Academy finally got on the scoreboard.
And as they ran the ball, they benefitted by surging ahead 8-3 and held on for a 9-5 margin at the end of the first period.
However, the Saints stepped up their offensive attack and after Richea Haywood drove through the lane for a lay-up for a 9-7 deficit to start the second quarter, Abeanna Brennen canned two consecutive three-pointers to even the score at 13-13.
The Falcons then pulled away to take a 19-15 advantage at the half.
Jordan Prince Williams got the difference in the game in the third quarter as they out-scored Kingsway Academy 7-4 behind the 1-2 punch from Stevens and Williams.
The Saints only had one player that scored in the fourth quarter as Haywood was responsible for their five points. But it wasn't enough to get Kingsway Academy over the top.
Haywood finished with a game high 13 points, Brennen had five and both Raven Nixon and Xavier Morris helped out with a basket.
Vandyke Bethel, coach of the Saints, said they didn't perform as well as he expected. As a result, they suffered their second straight loss, but this was one that got away from them.
"We didn't have a bad game," Bethel said. "We are just trying to get the guys to buy into the game and we have to find a way to make it more difficult for our opponents.
"We, in turn, have to figure out what we have to do to get what we have to get. When I first told them about this, this was something that they had to buy into. Once we can do that, we will be better."
Bethel said his Kingsway Academy's team just simply didn't handle the stress of the game and it showed up in clutch situations when the game was on the line and they missed a few free throws that could have turned the game around.